Toledo and its surrounding communities are wonderful places to raise a family. This is due to the area's neighborhood safety, great school systems, abundance of parks to run around in, and the many activities you can enjoy as a family.
If you've ever wondered how you'll pass time with the kids on a free Saturday, a day off of school, or with the little ones during the week, we have a few suggestions. There is an overwhelming list of family activities in Toledo, so we thought we would hand-select a few of our favorites for you to choose from.
You may have frequented some before (like the zoo or the farmers' market), but may not be aware of a few hidden gems (like Sylvania Playland or Sundance Kid Drive-In). We hope this list helps you and your family take advantage of Toledo's many kid-centric activities!
Take the family to Sylvania to visit Fossil Park, one of only two prime Devonian Era sites on the planet. Search for world-renowned fossils (that you can even take home with you!) in this 5-acre quarry. The kids will have a blast as they uncover ancient relics dating back to nearly 375 years ago, including fossilized brachiopods, coral and more than 200 species of prehistoric life. And the parents will be pleased to discover that there is absolutely no cost for this family-friendly activity! And let's be honest — you'll enjoy the archeological digging at Fossil Park just as much as the kids will.
Photo courtesy of Fossil Park
If you haven't taken the family to Imagination Station yet, you must add that to the bucket list ASAP. Explore the hundreds of interactive exhibits and demonstrations within the science center's 80,000-square-foot facilities. This hands-on approach to learning won't feel exclusively "educational" to the kids, as they'll defy gravity in the Distorted Gravity Room and learn about weather in the Hurricane Chamber.
Photos courtesy of Imagination Station
If your kids love ice skating in the winter, they can ice skate year-round at one of Ohio Skate's two locations — in Maumee and Toledo. And the parents won't be left out of the fun either! You can skate as well, reverting back to your glory days on the rink. Keep an eye on the specials offered at the Maumee location and the specials you can get at the Toledo location, including Early Bird Family Skates, free skate rentals, and more!
Whether or not the sun is out, Splash Bay Resort in Maumee makes it feel like summertime all year long. This indoor waterpark resort is open every weekend during the year, making it the perfect weekend "getaway" for the entire family. The kids — and you! — will love the Walleye River Run, the Blue Tunnel Twister, the Red Hydro Spin, and the various rides and features at Splash Bay. The resort offers plenty of spacious accommodations for the entire family, including an on-site Holiday Inn for your convenience. If you're wanting to make a trip out of it, take a look at their various packages and deals to get the most out of your money.
Photos courtesy of Splash Bay Resort
Who doesn't love the nostalgic experience at a drive-in theater? Sundance Kid Drive-In located across from Pearson Park in Oregon offers just that — for an extremely reasonable price. Tickets for adults cost $9, kids 5–12 get in for $3, and kids under 4 are free! This theater is open seven days a week beginning in late May, and you can watch two movies back-to-back without leaving your car. This is the perfect solution for allowing the little ones to fall asleep in their carseats, and for those bigger kids to experience something so exciting and out of the ordinary!
If you have to cancel your trip to the neighborhood park due to rain or cold weather, but still have kids bouncing off the walls who need to release their energy, we have the perfect solution. Visit Sylvania Playland, an indoor bounce house and playground filled with five inflatables, four swing sets and a special toddler area. And don't miss their brand new glow-in-the-dark mini golf course with four fun themes (underwater, pirates, dinosaurs and knights/dragons). Or test your skills at their action-packed arcade! Sylvania Playland is the perfect location for energetic kids on a rainy day.
Photos courtesy of Sylvania Playland
No matter what time of the year it is, you can take the family downtown to the Toledo Farmers' Market every Saturday. This is the perfect opportunity to get fresh produce for the week's meals, learn about different types of food, and expose your children to the importance of supporting local farmers and makers. The spring/summer market is open from 8 a.m.–2 p.m. on Saturdays from May through November and the winter market runs from 9 a.m.– 1 p.m. every Saturday from December through April. If you haven't been a part of the local farmers' market culture thus far, now's the time to get involved! It is such a special time for the city to celebrate the hard work (and tasty products!) of the farming community.
Photos courtesy of Toledo Farmers' Market
If you've been around Toledo culture for a little bit, you already know that opening day at Fifth Third Field for the Mud Hens' season is a pretty big deal. This day marks the beginning of America's — and one of Toledo's — favorite pastimes: baseball games. Kids love going to live sporting events, for the excitement, bright lights, greasy food, fun songs, interactive games, silly mascot — and of course, the actual game. Take your kids to a Mud Hens game this season, particularly on the weekend because kids can run the bases after each Sunday game and each weekend game concludes with a firework show! If you're serious about going to Mud Hens games, consider joining the Muddy's Buddies Kids Club to get special perks, including discounted tickets.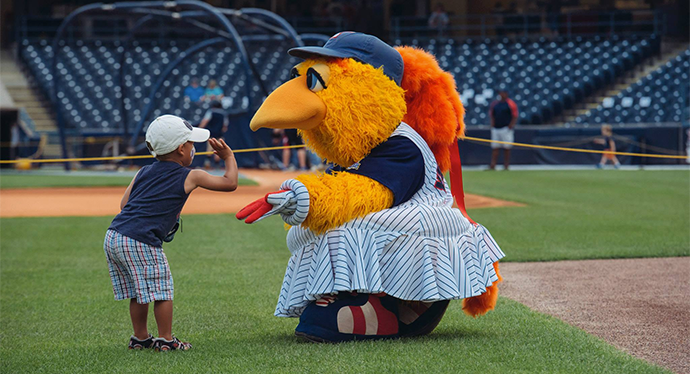 Photo courtesy of Toledo Mud Hens
This is another activity that parents will enjoy just as much as the kids. If you haven't visited the Toledo Museum of Art, consider playing tourist in your own city by perusing their many exhibits, admiring exceptional artwork and discussing your favorite pieces with the kids. Check out the museum's Family Center where kids can create their own art every Tuesday and Thursday from 10 a.m. to 3 p.m., Friday from 3–8 p.m. and Sunday from 12–5 p.m. A visit to the Toledo Museum of Art is extremely budget-friendly as well; admission is free (including the Family Center activities!) and parking costs just $5.
Photos courtesy of www.PhotographyByK.com
What is a family-friendly list without mention of the local zoo? The Toledo Zoo is the perfect place to take the kids. Not only will they have a blast looking at the wide variety of species and exhibits, they'll learn a lot and get to stretch their legs as you explore the zoo together. In fact, the Toledo Zoo hosts a number of educational programs for kids of all ages, where they can learn about animals, nature, and conservation in a hands-on manner.
Photos courtesy of the Toledo Zoo
What do you like to do as a family in Toledo?
Help out other parents in the area who might need to add some ideas to their family activity queue. Comment below with your suggestion!