7 Date Ideas in Toledo | Daytime + Nighttime Experiences
Why is it that the moment we get to a spontaneous — or even a scheduled — date night, we suddenly have no idea what we'll do? No matter how long we've lived in an area, it seems like you forget all there is to do, as you spend the majority of your days going to and from work, taking the kids to their various sports practices, or picking up groceries and dog food from the store.
It isn't until a friend or family member visits Toledo that we are forced outside of our routine, and play "tourist" for a day alongside those visiting the city for the first time. This same hometown rut can apply to date night as well, as you may simply frequent the same restaurant in the neighborhood each time, or you might even resort to a night in watching Netflix and eating Chinese takeout (and there's nothing wrong with that!).
However, sometimes it's fun to experience something new or something you haven't done in years. That's why we're here!
Branch out and try something a bit out of your usual date night default, and venture to one of these amazing Toledo establishments perfect for the ultimate romantic (and fun!) experience.
DAYTIME DATE IDEAS:
Get Creative
Experience the Glass City to its fullest by taking a glassblowing class at Gathered Glassblowing Studio, located in the heart of downtown Toledo's Historic Warehouse District. Sign up for one of their upcoming classes as a couple, and create something beautiful together.
Take it to the next level by purchasing their $225 date night package, in which you bring wine and hors d'oeuvres while you watch a glassblower make a vase, pitcher or bowl of your choice (that you get to keep). You will then have the opportunity to make your own special glass item from their list of projects!
Whether you keep things simple with a public glassblowing class or get fancy with a private date night class, you will enjoy the creative collaboration and fun, hands-on date experience at Gathered Glassblowing Studio.
Be a Child-at-Heart
Take a sunny-day stroll through the Toledo Zoo for a fun and carefree date! There is so much to see and do at the zoo, and you'll love acting like children again, admiring the fascinating creatures and walking hand-in-hand through the zoo's 51 acres filled with extravagant exhibits.
Peek at the zoo map before your visit, and peruse their calendar of events in case your visit falls on an action-packed day at the Toledo Zoo.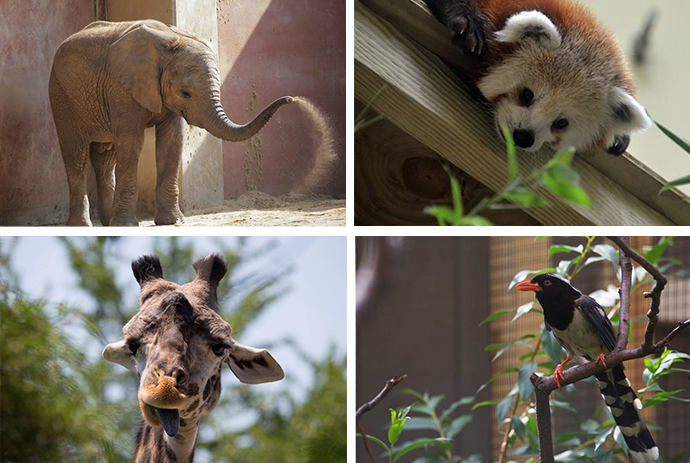 Even if your date doesn't coincide with a zoo event, you're sure to have a fun and memorable time as a couple. Because what's more romantic than seeing two gorillas sit side-by-side and watching the way otters cling to each other as they drift through water?
You can even see what you're getting into beforehand by spying on one of the zoo's live animal webcams!
Admire Masterpieces
A typical first-time visitor destination in any city is its local art museum. Sometimes, after living in an area for awhile, you don't revisit museums or other cultural exhibits. However, the exciting thing about art museums is their constant evolution over time, as breathtaking exhibits come and go, collections get updated, and events occur on a regular basis.
Visit The Toledo Museum of Art for your next date for a relaxing and sophisticated experience. There's something about art that really connects people — in this context, through conversation involving works of art and joint admiration of the creative world.
Check out the current exhibitions at the museum, some events that might be coming up, and their more permanent collection you can expect to see during your visit. Grab your date by the hand and stroll through this museum jampacked with history, creativity and excitement.
Experience Nature
Another way to admire beauty as a couple is with a visit to the Toledo Botanical Garden. This time you can experience a breath of fresh outdoor air as you stroll through a more natural form of beauty in over 60 acres of manicured plant life.
The gardens are packed with history, as they recently celebrated 50 years of growing in 2015. Admire their 50 years of hard work and discover some new plant species you didn't know existed, as much of the plant life is labeled with its scientific and common names.
Your visit could entail a brief refreshing walk or a multi-hour adventure, as you can walk, birdwatch, or enjoy a picnic together nestled amongst the gorgeous landscape of the Toledo Botanical Gardens.
---
NIGHTTIME DATE IDEAS:
Grab a Drink
As the sun begins to set, it's time to relax as a couple with a drink or two at a local brewery. One of the best local breweries perfect for such an activity is Maumee Bay Brewing Company.
This craft beer paradise is located within The Oliver House, which has a colorful and rich history dating all the way back to 1859. In fact, this building is the oldest-working commercial building in all of Toledo! Coupled with its interesting past and its current happenings, Maumee Bay Brewing Company makes for the perfect drink destination on date night.
Maumee Bay's current beer list is impressive and ever-changing, featuring several Maumee Bay Brewing Company options brewed in that very building! So head to the Maumee Bay Brew Pub, located in the main ballroom on the second floor of The Oliver House, where you'll find an abundance of beer, comfort food, build-your-own burgers, and wonderful appetizers.
Savor Each Bite
Date night is a special time to enjoy the company of your significant other, away from work, the kids, and everyday worries. One of the most important aspects of a successful date is the food involved, so you don't want to miss the mark when choosing a restaurant. That's why we confidently suggest Element 112, where you can fully savor each bite together.
This one-of-a-kind restaurant is inspired by the four natural elements — earth, air, fire and water. Chris Nixon, the restaurant's executive chef and owner, has an impressive culinary resume and is a Sylvania native who returned to his hometown to share his gift of cooking with this community. Nixon uses only the freshest seasonal ingredients in his menu that changes daily, featuring items sourced from his farms, fishmongers, farmers' markets, specialty purveyors and the Element 112 garden.
Settle in for a delectable dinner for two, with a reservation. You may also request a private dining experience if you're celebrating a more special occasion. With their private dining package, you will dine in a completely private room with a full looking-glass wall that peeks into the Element 112 kitchen, so you can survey the preparation of your meal from start to finish.
See a Show
Valentine's Day may have come and gone, but you can treat your valentine to a show at the Valentine Theatre all year long. There are so many events happening at this historic theater — from dance performances, film series, musicals, ballets, orchestral performances and more.
Make a day of it by doing any of the abovementioned date activities, grabbing a bite to eat or a drink, then topping off the night with an entertaining performance at this theater. Buy your tickets to an upcoming show, and escape from reality as you laugh at or admire the talent onstage alongside your date.
What's your favorite date activity in Toledo?
There are so many things to do in the area as a couple, and we would love to know your favorite activities!
PHOTOS COURTESY OF: Gathered Glassblowing Studio, Toledo Zoo, Photography by K, Toledo Botanical Garden, Maumee Bay Brewing Co., Element 112, Girl in the Glass City
Save
Written: Mar 10, 2016