#TransformationTuesday | Toledo Designer Transforms a Living Space
A beautiful interior is that much more impressive when you see photos from its past. It makes its current state seem unbelievable and even more impressive when you can see its transformation. What's equally as unbelievable is the hard work interior designers and crafty homemakers put forth to completely transform a space.
Carolyn Beyersdorf of Decorating Den Interiors is a Toledo-based interior designer who has been practicing interior design for over 30 years. And it certainly shows! She has been an IIDA (International Interior Design Association) Professional Member since 1995 and she was NCIDQ (National Council of Interior Design Qualification) certified in 1991. All of those acronyms simply mean she knows her stuff when it comes to interior design.
Carolyn enjoys providing interior design solutions to fix her clients' problems, as well as creating a beautiful interior using quality finishes and product selections.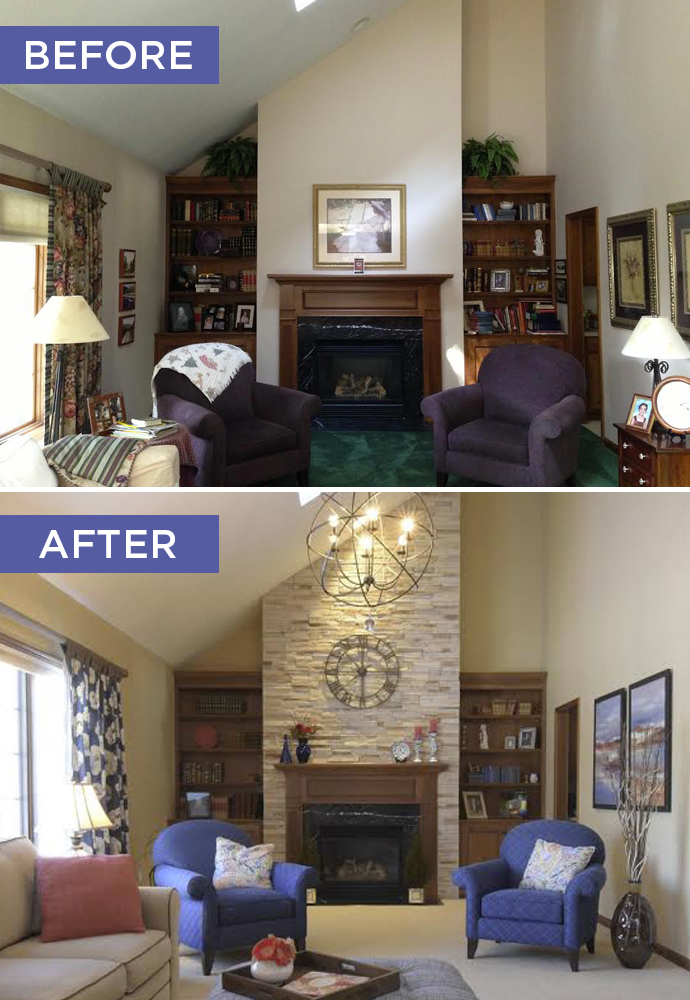 She recently transformed this living room from something traditional and outdated to the informal, warm and airy space that it is today. The client lived in this home for about 14 years and decided it was time for an update in the family room and kitchen.
They changed out the dark green carpet into a more neutral shade of carpeting, which made a dramatic difference in this space. The client was interested in replacing the sofas and end tables, but asked that the existing purple chairs be re-upholstered. Carolyn used a bright and refreshing blue fabric to repurpose the chairs, which ended up being a wonderful focal point in the room.
The client was open to using a combination of solids and prints in their furnishings and window treatments, which allowed Carolyn to have a bit of fun with the curtain pattern. We love the floral design she chose, and how it works with the landscape of the room so well!
She also updated the lighting using LED technology, which assisted in brightening up the room dramatically. They hung a new geometric light fixture near the fireplace that replaced the ceiling fan. Speaking of the fireplace, it got a facelift as well during the renovation, with the addition of cultured stone to its surface.
You get the idea!
This space underwent a serious transformation! See for yourself how Carolyn worked her magic in this living room.



Save
Save
Written: May 3, 2016