Fun Art, Cooking and Fitness Classes to Take in Toledo
It's important to step outside of your comfort zone every once in awhile, whether that means checking out a new local coffee shop or volunteering your time and energy in the community. Another way to experience something new is by expanding your set of skills and hobbies at a local class!
Get creative, healthy and active by signing up for one of these art, cooking and fitness classes designed to teach you a new skill, improve your well-being, or simply provide a fun experience.
ART CLASSES
Photos Courtesy of The Art Supply Depo
The Art Supply Depo
The Art Supply Depo in downtown Toledo is an excellent source for quality art supplies, expert advice, and for our purposes — fun workshops. Check out their upcoming workshops ranging in subject, difficulty and price, all of which share a common goal to foster creativity and provide a fun and educational experience. Take an extensive Oil Painting Day Class or keep things simple with a Cocktails + Color class, in which anyone who can hold a paintbrush or a glass of wine is welcome!
Uncork the Artist
Uncork the Artist has two locations in both Toledo and Perrysburg, both of which infuse creativity and camaraderie for an unforgettable night out with friends, family, co-workers, or your significant other. You are even welcome to bring your favorite bottle of wine to enjoy while you create your masterpiece project! Follow the instruction of Uncork the Artist's certified art teachers who will take you through a step-by-step process that requires no previous experience. Check out their class schedule and get a group together for a night you won't forget!
Photo Courtesy of Peace Love & Pottery
Peace Love & Pottery
Take your artwork to the 3-dimensional level by painting your own pottery at Peace Love & Pottery in Sylvania. You can either walk in or schedule a party in advance to decorate your very own beautiful piece of pottery! This locally owned company has been owned by the same family for four generations, providing a space for artistic expression and fostering creativity. Take your pottery game to the next level by signing up for a class at Peace Love & Pottery, ranging in price and subject. Or sign up for a free decorative technique class, where you'll learn how to paint a piece of pottery just like one of the samples in their shop.
Looking For More Art Classes?
Take a look at what the Toledo Museum of Art, Toledo Botanical Garden, Copper Moon Studio, CREATE Art Studio and The 577 Foundation have in store.
COOKING CLASSES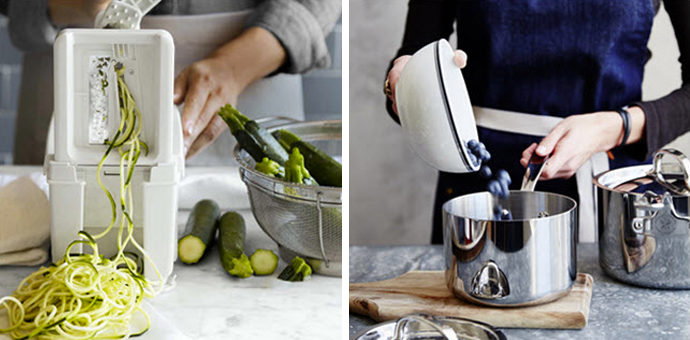 Photos Courtesy of Williams-Sonoma
Williams-Sonoma
Williams-Sonoma at Franklin Park Mall in Toledo offers a wide variety of free cooking classes in their state-of-the-art facilities. Williams-Sonoma locations all across the country offer technique, kids', and cooking classes on the same day, but the times vary depending on the location. Take a look at their upcoming classes and call the Franklin Park Mall location at 419-475-6368 to get more details about the specific class you're interested in! This is a rare opportunity to get professional cooking classes at absolutely no cost.
Dégagé Cooking School Series
After you've spent an eventful day in Maumee, head to the Historic Commercial Building for a cooking class at Dégagé Jazz Cafe. The Dégagé Cooking School Series offers creative cooking classes on Thursday nights through the rest of the summer, ranging from $55 to $95 per person. Chef Mike Lambert is devoted to the local food movement and shares his passion for connecting local farmers and consumers with his monthly cooking classes. Check back for more classes offered at Dégagé after the summer is over, and get ready to gain some valuable culinary knowledge and create a tasty meal all the while. Space in these classes is limited, so be sure to register in advance by calling 419-794-8205, ext. 3.
Photo Courtesy of Beyond Basics Health Coaching
Beyond Basics Health Coaching Cooking Classes
Beyond Basics Health Coaching is dedicated to helping people fall in love with healthy food, through their grocery store tours, one-on-one nutrition coaching, group cooking classes, daily texting support and more! They also focus on the emotional reasons we fall back into unhealthy diets so we can be healthy for life. If you're interested in learning more about clean eating, how you can stick to a healthy lifestyle, or a cooking class, the Beyond Basics Health Coaching is your answer. They are in the process of rolling out a convenient live online cooking class program, but also offer in-person cooking classes in Toledo. Sign up to be on their newsletter or submit your information to get more details about any upcoming online or in-person class.
FITNESS CLASSES
Photo Courtesy of Andrew Weber Photography via Pure Barre
Pure Barre
Transform your body and life with a class at Pure Barre, a popular high-energy exercise class offered all across the country. At Pure Barre, women are able to share a sense of community where they feel inspired and empowered by one another's fitness and lifestyle goals. This total body workout utilizes the ballet barre to perform small, isometric movements, burning fat, sculpting muscles, and creating improved physiques. Check out the Toledo location class schedule to find the class that best fits your calendar! As a new client, you can receive one month of unlimited classes for $99.
Bikram Yoga Toledo
Relax with a rejuvenating yoga class at Bikram Yoga Toledo, a challenging 90-minute beginning yoga class consisting of 26 classic hatha yoga postures and two breathing exercises practiced in a heated room. These classes focus on building strength and stamina, improving flexibility and balance, and helping you heal, de-stress and detox your body! Take a look at their class schedule featuring a variety of class options (like Yin Yoga and Yoga Flow) and time slots, keeping in mind that you can get two weeks of unlimited classes for just $25 as a new student. You might want to take advantage of this deal before September 6, when the price will increase to $30!
Photo Courtesy of Toledo Heart and Soul Wellness Center
Toledo Heart and Soul Wellness Center
If you haven't quite found the fitness class you're looking for, you may just need to check out Toledo Heart and Soul Wellness Center's repertoire. They offer just about any type of fitness class, including kickboxing, dance, yoga, Zumba, cardio, cycling, pilates and more! Simply purchase a one-month membership for just $30 to gain unlimited access to their myriad of classes offered on an almost daily basis.
Class is in session!
…But thankfully, not the class that requires homework. What classes are you enjoying in Toledo? We'd love to know!
Written: Aug 19, 2016