Home Inspiration | 8 Color Palettes You Can Steal
Choosing colors in the home can be difficult. Putting the paint roller to the wall and settling on a brightly colored couch can seem like permanent and risky decisions.
On the flip side, a well-planned color palette can be extremely rewarding! Bright and cheerful colors can bring a space to life, express your personality, and add a lot of interest.
For some color inspiration, check out these spaces that incorporate striking, calming and attractive color palettes. You can even find the matching Benjamin Moore paint color if you find one that suits your fancy!
We love the deep emerald green hue framing the living space of this Perrysburg home. The neutral tones throughout and the vintage maroon couches complete the look, making it a cozy and inviting space.
While this bedroom may not scream "color", its subtle palette is something we certainly admire. The light blue chairs, orange strokes in the artwork, tan curtains, gray-blue accent walls, and gold coffee table — we just love it all! Like the style of this room? Make sure you take a look at the rest of the rooms in this Sylvania home to further your impressed state.
The living room of this Perrysburg home proves that you can tastefully incorporate youthful shades of purple and pink in a sophisticated manner. The combination of the light purple wall color and the light blue chairs is of particular interest to us.
The small classic dining room in this Holland home is the perfect area to experiment with bolder shades. It's wise to pick colors that are very similar yet contrasting enough to catch the eye, much like with this gold yellow and orange combination. Add in the rich dark wood, tan rug and white accents throughout — and it's a dreamy space for hosting guests!
Who says a tasteful color palette has to remain indoors? Let's take this party outside with this bright color scheme using natural surrounding colors to complement the consistent use of red throughout the deck area on this Metamora home.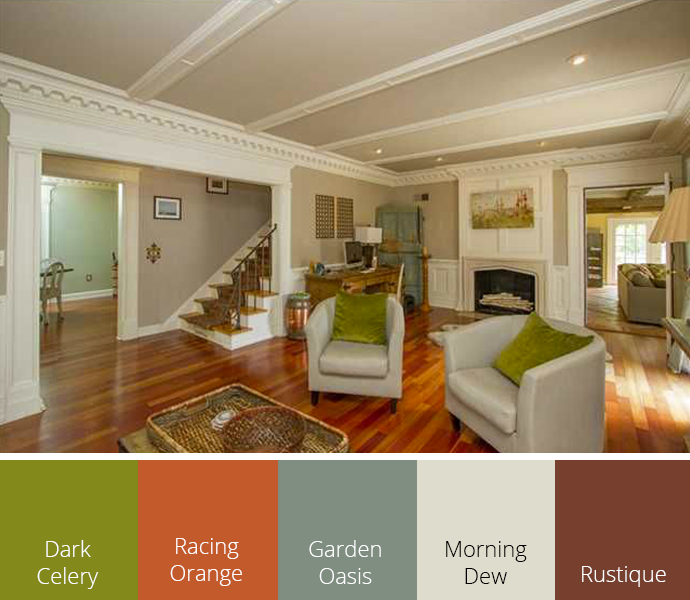 With neutral walls, ceilings and furniture, it's important to have a few bold accessory pieces to spice things up. The open living space of this Toledo home holds beautiful sage green pillows and a rustic light blue armoire to add some interest. We also love that the orange undertones in the flooring add some additional color to the room!
The bedroom of this Maumee home doesn't hold back, with its bold green paint color that you simply can't miss. We love the different shades of green incorporated throughout the space, the plain charcoal bedding, and the bright pop of hot pink found in the floral arrangement.
Adding a colorful couch can make all the difference in an otherwise plain room. This blue couch becomes a focal point in this gorgeous living area that resembles a sunroom, with its large windows flooding the room with natural light. The greenery, pops of bright red and pink, and tan flooring complete the look in this Ottawa Hills home!
Which color palette is your favorite?
Let us know what you think!
Written: Sep 7, 2016