The Ultimate Winter Guide for Toledo – Snowshoeing, Skiing, Ice Skating + More!
Are you one of those people who wakes up each morning and immediately checks the snow report? Or, maybe you're just beginning the snow-sport lifestyle. Whether you prefer speeding down mountains on a pair of skis, taking shorter trips down on a sled or meandering through the wilderness on snowshoes, the Toledo area offers a bit of everything.
We compiled a list of our favorite winter activities and the places you can enjoy them, too! Grab a friend, some sporting equipment and a few layers. Then, get outside and celebrate the snowfall!
Snowshoeing
Oak Openings is the largest of the Toledo Metroparks. With more than 50 miles of trails and over 4,000 acres of land, it's the perfect place to explore nature on a pair of snowshoes. Even in the winter, you'll be able to observe stands of pine, prickly pear cactus and multiple species of bird.
Secor is one of Toledo Metroparks' largest parks. In addition to the trails and wildlife you can view on your winter adventure, stop at the Window on Wildlife stations. There, you'll get the opportunity to feed birds, observe them and warm up inside the viewing areas!
Ice Skating
Ottawa Park has the only open air ice rink in northwest Ohio and southeast Michigan. Lighted for romantic evenings this winter, the rink also offers open skating periods, hockey leagues, tournaments and practice, as well as the indoor Rink Cafe where you can take a break, rent skates and sharpen your own!
For just $8, you can rent a pair of skates and get on the ice at Team Toledo Ice House. Because the rink hosts multiple hockey leagues and activities, Open Skate is just 12 – 1:50 p.m. on Sundays. Check their website for schedule updates and to find leagues you can join!
Tam-O-Shanter houses two indoor NHL-sized ice arenas, one studio ice rink, one sports and exhibition center, pro shop, restaurant and concessions. With an open skate available nearly every day, this is a great activity for groups, couples or individuals wanting to hit the ice!
Because the BGSU Ice Arena is so busy with events and leagues throughout the year, their Public Skate hours shift regularly. Check their skate schedule before you plan your trip. Outside open skate hours, the whole family can take lessons, celebrate a birthday or participate in hockey, figure skating, curling and broomball!
Located in Monroe, Michigan, the Multi-Sports Complex hosts the Monroe Ice Hawks, Journey Figure Skating Club, SMCC Hockey and Monroe United High School Hockey. Outside of practice, game and competition hours, you and the family can all get on the ice!
Outdoor Park Skating
In addition to indoor and outdoor rinks, Toledo has a few outdoor park skating opportunities. In classic Christmas movie style, you and your family can get bundled up — mittens and all — to skate on a frozen lake. For all the options below, check with a park ranger to make sure the ice conditions are safe!
Photo courtesy of Toledo Metroparks
At Pearson, lights have been added near the lake so you can continue ice skating even after the sun sets. When conditions are right for skating, the park is open until 8 p.m. every day.
Mallard Lake
Located in Oak Opening Preserve, Mallard Lake has been a popular skating destination for generations. Get the family out during the day to make memories and celebrate the holidays!
Silver Lake
Silver Lake at Side Cut Metropark is one of the most popular options during the winter months. Make sure to check with a park ranger before getting on the ice!
Cross-Country Skiing
Maumee Bay offers 1,336 acres of pristine park along Lake Erie. Mouse Trail is the most popular cross country destination within the grounds. Keep an eye out for wildlife along the way!
Photo courtesy of Toledo Metroparks
Throughout the winter months, all the trails in Toledo Metroparks are open for cross-country skiers — though you may run into dog walkers, hikers and other recreators too! Below are the best and safest options, but feel free to explore all the parks this season.
Starting at Evergreen Lake, Oak Openings keeps a groomed and maintained 4-mile trail reserved only for skiers. There is even a restroom stop at the halfway point.
The ski trail at Secor Metropark is open when conditions permit. Beginning at the trailhead near the Nature Photography Center, you can venture out on the 4.8-mile groomed route. Check the map at the trailhead which designates the ski and walking trails.
Sledding
When conditions are right for sledding, Pearson stays open until 8 p.m. The lighted sled hill allows for zooming down the slope even after the sun goes down!
Photo courtesy of Toledo Metroparks
Side Cut also has a lit sled hill for fun after dark. The Wagener Sledding Hill is located in the Silver Lake area and is one of the most popular snow day destinations in town.
If you haven't been yet, you don't want to miss the sledding hill at Maumee Bay State Park! As soon as the first snow falls, grab your disks, tubes and sleds and hit the slope!
Navarre Park
Located in East Toledo, the hill at Navarre Park is steep and bumpy in a few spots, but it's perfect for adventurous and experienced sledders!
Northview High School
The hill at Northview is lit up by a nearby parking lot which makes it a great spot for late night sledders. It's one of the longest hills on our list so you're in for a ride!
Harroun Community Park
Harroun offers two sled hills — one for tame riders and one for risk takers. Nearest the Lathrop house, the easier hill is less steep, more smooth and has a warming station nearby. The other has multiple bumps and ridges for jumps and challenges.
Nona France Recreation Area
The hill at Nona France is a classic, long, smooth ride. The hill is 60 feet off the ground, but the incline is slow so you can get optimal glide time. The park is in Whitehouse and it's most accessible from the park's Providence Street entrance.
Downhill Skiing
With 26 trails for different ski levels, Mt. Brighton has the most of those on our list. They also offer lessons and terrain parks with over-rails, boxes, jumps and more. Bring the whole family for a trip into Michigan; learn the ropes and shred some mountains!
Across the border, Alpine Valley has 25 tree-lined slopes, nine chairlifts and four rope tows. With three terrain parks, a half-pipe and a Magic Carpet lift, everyone and every skill level can have a great day on the slopes!
Photo courtesy of Mt. Holly 
Mt. Holly has 19 trails ranging from beginner to advanced. There are also three terrain parks for snowboarders. After your day in the snow, kick back on the 4,200 square foot heated paver patio and centered fire pit!
Pine Knob's three snowboard parks range from beginner to intermediate and to Big Park with jumps and rails for experienced riders. Skiers and boarders can ski into the night on their lighted slopes.
Located in Chesterland, Alpine Valley has five lifts and seven trails with broad runs and woodland trails. Snowboarders have the option of their own Board Lift and an XTreme Park with rails and half pipe. After a day on your skis, spend an hour or two on the Polar Blast Snow Tubing hill!
Photos courtesy of Big Creek Ski Area
Big Creek Ski Area is owned and operated by Cleveland Ski Club — the only ski club with their own hill. As soon as the temperature falls below 28 degrees, the snow guns turn on and the skiing doesn't stop until the snow is gone! They also offer night skiing so you can get as much use out of the new snow as you can handle!
At Boston Mills Brandywine, you can snowboard, ski and tube. For skiers, there are two mountains with all skill levels, multiple lifts and differing trails. Snowboarders can explore four terrain parks with basic runs, jumps, bumps and rails. And even tubers get jumps, chutes and some of the steepest grades in the area!
Ski all day at Mad River Mountain and you can see something new every run! They have more than 20 slopes and trails for you to speed down. Snowboarders can choose between two terrain parks with both beginner features and advanced jumps. End the day on the tubing hill because you won't have to hike to the top — you can take the conveyer belt!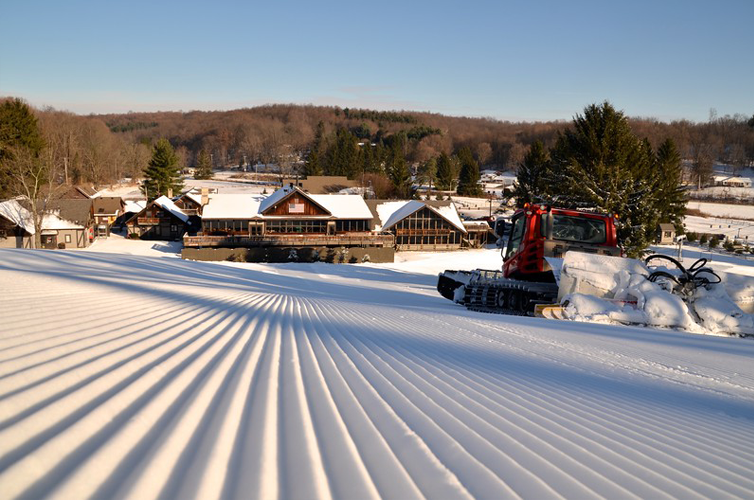 Photo courtesy of Snow Trails
Snow Trails has been around since the beginning of popular skiing in Ohio. Snow sports fanatics have been making the trip since 1961. With 17 trails, 9 lifts and spectacular snow, it's worth the trip. Over the years, Snow Trails has turned Mansfield into the Ski Capital of Ohio.
Opt Outside this season!
What are your favorite wintertime recreation activities? If we missed your favorite local spot, let us know!
Written: Dec 9, 2016