Danberry Realtors' 55th Annual Business Meeting + Awards Program
We held our 55th Annual Business Meeting & Awards Program on January 26th to celebrate the many achievements of 2016 and look forward to another wonderful year in 2017!
While we have held this meeting for several years now (55 to be exact!), this year was quite special, as we livestreamed the meeting. This reflects our continued integration with technology and desire to celebrate and honor our agent's achievements. You may watch the entire recorded meeting here.
Our meeting was held at 3:30 p.m. at the Inverness Club, a beautiful private club near the Ottawa Hills neighborhood. We heard from our vice president of commercial operations, Tim Schlachter, and our CEO, Lynn Fruth, who provided a look back at 2016 and announced several events and changes our company is looking forward to in 2017.
The most significant portion of the meeting was the awards program, which recognized the top agents in the company, based on a number of categories. The categories included new agents, Achiever's Club qualifiers, top sales producers, top listing agents, top commercial dollar sales volume, most listings, most closed, members of the President's Club, and more. The awards presentations were interrupted with hilarious clips of seasoned Danberry realtors, Tony Bassett and John Fesh, talking about the funnier side of real estate.
The top five members of the President's Club for 2016 were Rick Prokup, Victoria Valle, Mark Kruse, Donna Friesner, and Heather Smith-Lapoint. They each took the stage to pose for a photo with Fruth, while Danberry agents throughout the audience encouraged these hard-working agents by lifting up giant cutouts of their faces.
Following the fun and celebratory meeting, agents enjoyed hors d'oeuvres and cocktails from 5 to 7 p.m., providing an opportunity to be social, unwind, get to know each other, or reconnect. The food was very well received, including the Monte Cristo sandwiches, Korean potstickers, bacon wrapped water chestnuts, and many more tasty options.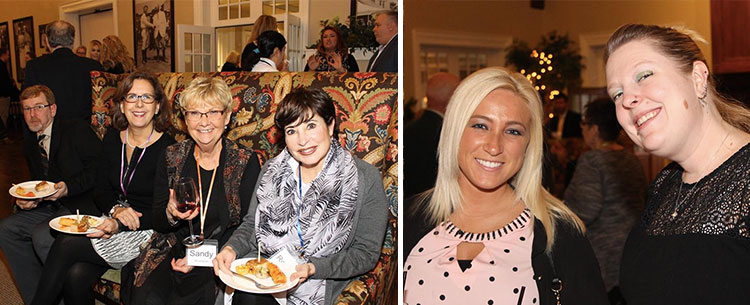 We enjoyed another inspiring and fun-filled meeting that recognized our amazing agents! We look forward to celebrating another great year. 
Written: Feb 3, 2017