Eclectic Harmony | How to Mix Old With New From a Local Interior Designer
Sharon and Emma Flory of Flory Re-Decor have been remodeling and decorating homes for the past 20 years. Their art and business backgrounds launched them into this creative career, in which they are passionate about finding the exact style that fits the personality of each client.
They often do this through mixing and matching old with new to create a one-of-a-kind space. The following photos demonstrate how they combined unique and intriguing pieces in an elegant and deliberate manner to create a cohesive and attractive feel throughout a client's home.
Their client, Dr. Sara Graber, had a specific vision for her home of "eclectic harmony," by combining separate pieces in a cohesive way, but had no idea how to achieve the look. She turned to the experts at Flory Re-Design, who know a lot about creating personalized spaces.
They centered the entire look and color scheme of the project around the dining room rug — and the rest is history! In fact, the dining room became the focal point of the home, with an enormous table to match the dark wood flooring, and natural wood chairs to match the buffet. All of this was paired with a vintage church pew that provided extra seating and a sense of old mixed with new.
While this desirable mix-matched look may look random and spontaneous, the team at Flory Re-Decor was very purposeful in their decisions. They were dedicated to keeping the look and feel of the home consistent and cohesive. They matched the natural tone of wood on the dining room pieces, and have strategically scattered copper accents throughout the kitchen and dining room for a harmonious design throughout.
Additionally, the living room and great room feature colors and textures that mimic the dining room, including the blue couch that matches the dining chairs. They also added pillows to the living room that perfectly coordinate with the decor without necessarily "matching."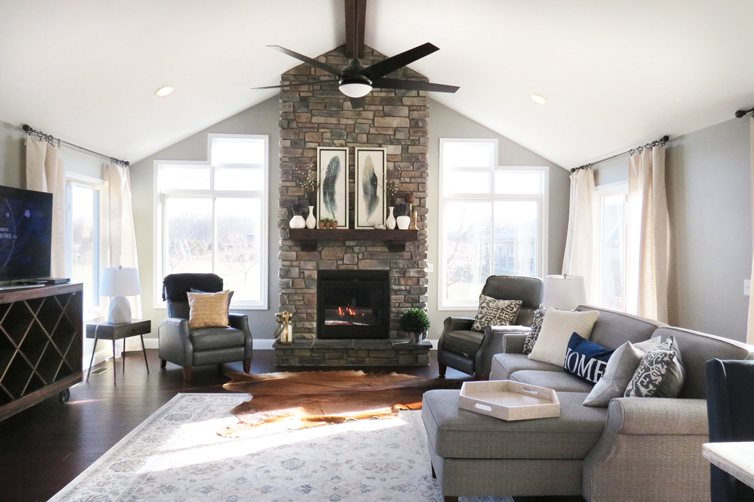 Tips for Creating an Eclectic Home Mix:
Start with a base piece that you love.

Starting is the hardest part. Find an item you love (a rug, chair, sofa, painting, etc.) and build around that item! It's always important to find a piece to inspire you and the rest is easy.
Never buy sets of furniture.

Going to a furniture store and purchasing a sofa, chairs, coffee table, side tables, etc. from one line or display will create a look that everyone has! Choose pieces from all over the store that coordinate but don't necessarily "match."
Add in vintage or unique "used" pieces.

Just like this project, the church pew fits in beautifully with the new dining table and chairs. Small accent pieces such as vintage books, antique items, or vintage signs as wall art all make for a fun eclectic look.
Mixing metal tones is okay!

We used dark bronze, copper, and silver in this design. By mixing these tones in the right way, we were able to create a richer look within the rooms.
Choose an accent color and a complementing color or tone to go with it.

Carry that color throughout the design to create a cohesive look. For example, this project used blue as the main accent color. Copper was the accent tone they used in small accessories to add interest and pull the entire look together.
All Photography Courtesy of Flory Re-Decor.
Written: Mar 24, 2017