The 9 Best Places to get a Margarita in the Toledo Area
Cinco de Mayo is rapidly approaching. While we mentally prep for the amounts of tacos and tequila we will consume (thank goodness the holiday falls on a Friday this year), we are scoping out the best places to find the beverage of the hour — a margarita. This salt-rimmed sipper from heaven can be ordered on the rocks, flavored, virgin or frozen. Regardless of your preference, there are plenty of options in Toledo to quench your thirst.
To help you decide, we've compiled a list of our favorite margarita spots in town. So, before happy hour rolls around, check these options out — the lime and tequila bevvies deserve to celebrated every day of the year.
 El Vaquero
Photo courtesy of El Vaquero
This Ohio chain has one of the best happy hours around, boasting inexpensive sips from 4-8 p.m. Monday through Saturday. For that reason, the atmosphere is usually popping between these hours. Order a rainbow of margaritas for the table — flavored options include blue curacao, mango, watermelon, piña colada and pomegranate. You could also go the classic route with a jumbo patron skinny margarita, with fresh lime juice and agave nectar garnished with a lime.
San Marcos Restaurant
Photos courtesy of the San Marcos Restaurant
The San Marcos Mexican Grocery Store is truly the only spot to go if you're looking to cook authentic cuisine, offering fresh salsa, house-made tortillas, tamales and cheeses alongside pastries and produce. Plus, if you step through to the back of the store, you'll find an incredibly colorful and welcoming restaurant! Enjoy enchiladas, burritos, tacos or whatever your heart desires, and make sure you accompany your choice with a margarita — they're the best in town. The store has expanded now to include three locations, so pick the closest one and drink up. Salud!
Arturo's Fritz and Alfredo's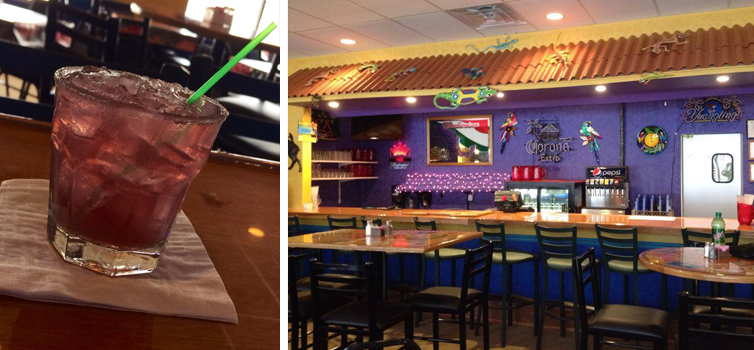 Photos courtesy of Arturo's Fritz and Alfredo's
You don't have to choose between German and Mexican cuisine if you choose this Holland staple. Arturo's Fritz and Alfredo's serves everything from schnitzel and spaetzle to tacos and tamales. Oh, and the margaritas are nothing to scoff at. They come in one size — jumbo — and there are 13 flavors to choose from, including unconventional options like watermelon, coconut, peach and grape (pictured).
Cocina de Carlos
Photo courtesy of Cocina de Carlos
Lupita and Carlos Mendez run this cozy cantina in Perrysburg. Stop in to get a taste of family recipes, including mama's tortilla soup, shrimp cozumel and cactus picante. The restaurant keeps it simple when it comes to the margaritas, veering away from colorful syrups and sweet flavors. The house marg is created from silver tequila, lime, orange juice, triple sec and a luxurious splash of Grand Marnier. It comes frozen, but get it on the rocks with salt. Go ahead and order the pitcher — you're going to want more than one of these.
El Nuevo Vallarta
Photos courtesy of Maria Meija and El Nuevo Vallarta
The grapefruit margarita at El Nuevo Vallarta joined the menu in 2015, and we are so glad it did! Made with fresh-squeezed grapefruit, this margarita is refreshing without being too sweet. This would be enough reason to stop by, but the fajitas are also to die for — don't miss them.
La Fiesta
Just a stone's throw away in Erie, Michigan lies La Fiesta, and the name certainly says it all — choosing to dine here is always a party. This family-owned restaurant has been around for decades, but certainly hasn't eased up on the quality of the food. During happy hour, you can grab a margarita for the low price of $3, and there are plenty of specials throughout the week.
Carmel's Mexican Restaurant
Photos courtesy of Carmel's Mexican Restaurant
The margaritas are truly the star of the show at Carmel's Mexican Restaurant. There are specials on the strong lime bevvies nearly every day of the week, and they are well worth the trek. On a sunny day, enjoy your drink of choice on the patio, and if you're looking for something to munch, grab some shrimp rolls for the table — jumbo shrimp sautéed with garlic and onion, rolled in a flour tortilla, fried, and served with avocado and cilantro sauce for dipping.
El Camino Real
Photos courtesy of El Camino Real
El Camino Real has a fantastic and celebratory atmosphere — especially on Taco Tuesday. Located inside of an old warehouse mill building, the restaurant serves up steaming Mexican classics. Sit outside and enjoy the shade of large trees and a water wheel, and sip a sweet frozen strawberry marg (or opt for a 60-ounce pitcher for $22).
Loma Linda's 
Loma Linda's opened to Toledo patrons back in 1955, making it the first authentic Mexican restaurant in the area. Since then, the iconic eatery has only continued to rise in popularity, remaining a hot spot for great food and great margaritas. Stop in to sip a marg in one of eight flavors, ranging from classic to watermelon. On Margarita Mondays, you can snag one for just $2.60!
Cheers!
Did your favorite margarita make the list? Let us know in the comments.
Written: Apr 27, 2017