A Complete Guide to 6 Incredible Day Trips Near Toledo
We are so lucky to live in Toledo! We have amazing weather, friendly people and so many fun things to do. But sometimes it's good to get a change of scenery. When you're feeling an escape ASAP, or just looking for a bit of an adventure on a weekend, take advantage of our central location and visit one of these amazing, nearby day-tripping locations.
We've provided a guide to each city, including our recommendations for what to do, where to eat and where to wind down with a drink. Adventure is out there, so hop to it!
Sandusky, OH
Photo courtesy of the Cedar Point Marina
How to Get There
Drive just over 1 hour east on I-80 and I-90.
What to Do
The city of Sandusky is located on Sandusky Bay, and is home to 22 miles of shoreline within its city limits. It is known for its perfectly manicured parks and historic architecture, and is basically the epitome of a charming lakeside town. Check out Cedar Point, a 364-acre amusement park located on the bay. Since 1870 it has thrilled locals and visitors alike with roller coasters, water slides, and excellent food and drink options.
Where to Eat
Stop in at Berardi's Family Kitchen for no-frills comfort food that is good for the soul. The cozy spot is open for breakfast, lunch and dinner, so come anytime, pick up a menu, and settle in for a meal just like the ones your grandmother used to make.

Where to Drink
Firelands Winery has grown a reputation for incredible wine both in our home state of Ohio and nationally. Come by for a tour of the winery, which will give you the opportunity to see how the wine is made first hand.
Monroe, Michigan
Photo courtesy of Public House
How to Get There
Monroe is within easy reach, located just 17 miles north of Toledo.  
What to Do
Monroe is Michigan's third oldest community, so it offers a bit more culture and history than some of the other towns nearby. It's also a fantastic town for meandering, with its half-mile riverwalk alongside the Raisin River and many idyllic parks. Looking for a local attraction? Explore the Monroe County Michigan Historical Museum, catch a performance at the River Raisin Centre for the Arts, or hope on a luxurious boat ride provided by DownDay Charters.
Where to Eat
Everything is made in house from scratch at Public House, which is probably why the food is so darn tasty! Stop in for chicken tenders, pot pie, burgers, steaks or stuffed portobellos (there are vegetarian and gluten-free options as well), and make sure to order a pitcher of specialty sangria for the table.
Where to Drink
If the pitcher of sangria from Public House didn't quite hit the spot, stop in for a cocktail at 129 Lounge. This little martini bar is located on the river (with patio seating) in the heart of downtown Monroe, and offers about any martini you can imagine. If you're hungry, feel free to order in food from neighboring restaurants.
Put-in-Bay
A Put-in-Bay Day from Peter Huston on Vimeo.
How to Get There
Make your way to Catawba Island, about an hour's drive east from Toledo, and then hop on the Miller Ferry — an experience in itself.
What to Do
As does any great island getaway, Put-in-Bay offers a variety of fun water-oriented activities on Lake Erie. Try your hand at kayaking, swimming, parasailing or jet-skiing — but be sure to wear that sunscreen! Once you're done playing in the water, stop in at a few local shops, or explore the Lake Erie Islands Conservancy which includes protected wildlife trails and historic home tours.
Where to Eat
Lakeside adventuring is sure to work up an appetite! When you're ready to grab a bite, maybe find a good spot for some lobster bisque. After all, Put-in-Bay is the lobster bisque capital of the world. We recommend the Boardwalk, which offers fresh seafood in a fun atmosphere with great views of the bay.
Where to Drink
The historic Heineman's Winery, established in 1888, is the place to stop if you're looking for great wines, and a fun experience to boot. It's the oldest family-owned and operated winery in Ohio, which means that the wine-making technique has been perfected over the years. After you've sampled a few wines, take a tour of the Crystal Cave. The cave is actually the world's largest geode, and is located directly under the winery — it's definitely worth checking out.
Ann Arbor, MI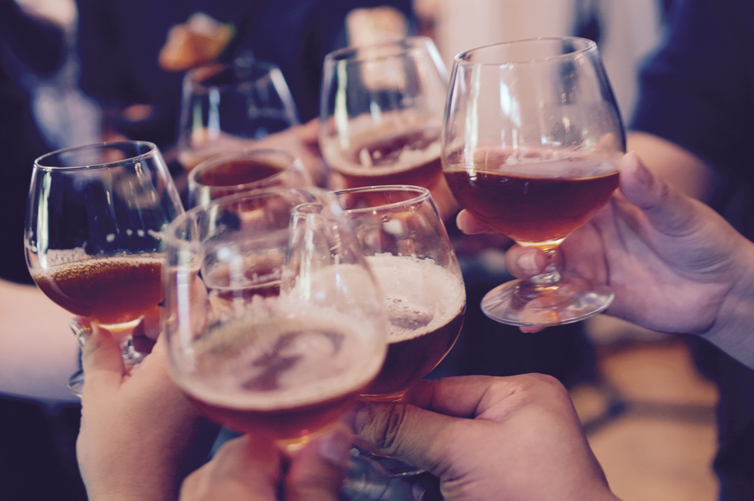 How to Get There
Drive approximately 50 miles north on US-23 S.
What to Do
There is so much to do in Ann Arbor, so make sure to plan the day before you go!
We recommend you spend the day exploring and seeing as much as you possibly can. Some places you could stop include the University of Michigan campus, the Farmers' Market (open on Saturdays), the Huron River (maybe catch a kayak tour), or the nearby Dexter Cider Mill.
Pro tip: While you're out, make sure to keep an eye out for Ann Arbor's famous fairy doors — charming, artistic, miniature doors located outside of various shops, cafes and restaurants. You can find a map of fairy doors here.
If you're ready to get outside of the city, maybe take a side trip to the charming town of Ypsilanti, situated about 10 miles southeast of Ann Arbor. Or turn that into a separate day trip all together!
Where to Eat
Head for a pizza at The Original Cottage Inn. Founded in 1948, this town favorite was the first to serve pizza. Come for the deep dish and hand-tossed pies, and stay for the funky, casual atmosphere. You'll most likely see a few college students enjoying a study break.
Where to Drink
Give yourself a brewery tour! There are several fantastic breweries located within walking distance from each other downtown, including Grizzly Peak, Jolly Pumpkin, Blue Tractor and Arbor Brewing Company.
Detroit, MI
How to Get There
Drive north approximately 70 miles on I-75, or take the Amtrak, which should get you there in just over an hour.
What to Do
Admire artwork at the Detroit Institute of Arts, relive classic hits at the Motown Museum, or wander through the spectacular Belle Isle Park, located on 982 acres on an island in the city. The park is home to other attractions including the Belle Isle Aquarium, the Anna Scripps Whitcomb Conservatory and the Great Lakes Museum, but you'll have just as much fun walking around enjoying a sunny Detroit Day.
Where to Eat
The Selden Standard offers inventive, locally sourced, New American small plates in a chic environment. Highlights include the lemon chittara with squid, lobster broth and gremolata, the beef tartare with quail egg, and the lamb ragu with mint.
Where to Drink
Craving a craft cocktail in a swanky, low-lit space? The Sugar House is your place. They have 101 classic cocktails that are always available, as well as a rotating seasonal menu. Stop in and try out one of this Spring's special items: Alex Watches the Bachelor (Citadelle gin, Creme Yvette, Plymouth gin, hibiscus-rose syrup, lemon, cava), David Sings Despacito (Lot 40 100% rye, jalapeno infused mezcal, ginger, lime, pineapple, Peychaud's bitters), and Donnie Dances to "Toxic" by Britney Spears (Long Road Barrel Aged Bartender's Blend gin, cream sherry, cucumber syrup, egg white, lime, baby arugula).
Cleveland, Ohio
How to Get There
Cleveland is just within striking distance from Toledo. Drive one hour and 48 minutes (approximately 116 miles) east on I-90.
What to Do
In a big city, there are often several "must-see" attractions. Our favorites are the Rock and Roll Hall of Fame, the Cleveland Metroparks Zoo, West Side Market, the Great Lakes Science Center, Terminal Tower and the Garfield Memorial.
Looking for an excuse to shop? The Cleveland Arcade is an exquisitely ornate indoor mall with amazing restaurants, elegant shops and the Hyatt hotel. And if you're a fan of the iconic movie, a Christmas Story, tour the Christmas Story House, which was used to film the outdoor scenes and has been restored to the same splendor it portrayed in the film.
Where to Eat
The tasting menu at Dante's offers a full culinary experience that is as fun as it is delicious. The courses will be up to the chef, but include options such as cinnamon-rubbed duck, various homemade pastas, pomegranate glazed shrimp, tuna tartare, and oysters on the half shell. Choose between five, seven or even 21 courses with wine pairings. View a video of the experience here:  https://vimeo.com/65251921
Where to Drink
Drop in for a cocktail at Society Lounge, where you'll sip something interesting and carefully crafted, and feel like you stepped into a glamorous bar from the 40s. Check out the schedule before you go to see if there's a jazz or blues act booked.
Time to plan your trip!
Now that you're thoroughly researched, it's time to make plans for your next excursion. If we missed one of your favorite getaways, let us know!
Written: Apr 11, 2017