9 Must-Try Spring DIY Projects from Local Bloggers
Spring has sprung, and while we're enjoying the warm weather and tackling our latest spring-cleaning project, we're also thinking of great ways to bring color back into our homes. Adding new decor to keep up with current trends each year can rack up expenses quickly, but these DIY projects are cute and easy ways to bring the season into your home at little to no cost. From patterned pitchers and coasters to moss monograms and garden ladders, we are sure you'll find something to make the neighbors jealous.
We collected these ideas from local Ohio bloggers, so while you're planning your next crafting session, peruse some of their work! You might even find someone you know.
DIY Spring Wreath Door Basket
Photos and project courtesy of On Sutton Place
Door decorations are not just for winter. And if you haven't taken your Christmas wreath down yet (we know there are a few of you out there), it's time to replace it with this adorable springtime door basket. Use fresh flower buds, a few blooms and a silk ribbon to greet your guests in style and add a bit of color to your entryway. Ann Drake of On Sutton Place takes you through the process step-by-step on her blog.
Citrus Serving Trays
Photos and project courtesy of IHeartNaptime
The weather is finally warming, which means patio season is nearly upon us. Prep for those outdoor parties and patio dinners by making your own citrus serving trays. These works of art are perfect for resting a few cocktails, some finger food or fresh flowers, and are sure to add a fun pop of color to any tablescape. Jamilyn, a Toledo blogger, makes hers in lime, grapefruit and lemon. Which fruits will you choose?
Vertical Herb Garden Ladder
Photos and project courtesy of Designed Decor
Springtime is the perfect season to give your garden a bit of a redesign. Add a new dimension (and keep your herbs organized) with this herb garden ladder from local blogger, Designed Decor. Use an old wooden ladder from the garage (or your neighbor's trash), a and repurpose it into a gorgeous work of art! We love that this gives you the flexibility to move your garden into the sun or the shade, or easily bring a bucket inside for harvesting.
A Moss Monogram
Photo and project courtesy of Elizabeth Joan Designs
Monograms will never go out of style, but we are particularly in love with the latest moss trend. The greenery adds a bit of woodsy, rustic charm to your letter of choice, and can be used to decorate a door, or add a personal touch to your bedroom or entryway. Forget doling out a wad of cash, and make your own with this simple tutorial from Elizabeth Joan Designs. Hers only cost a few dollars to make, and she was able to customize the font to her preference.
Modern Hexagon Succulent Planter
Photos and project courtesy of Carla Schauer
Succulents and cacti add a gorgeous natural touch to any room, and are great, low-maintenance plants for those of us without the gift of a green thumb. House your succulent in this trendy but easy-to-make DIY planter from Carla Schauer. Hexagons are wonderful for adding modernity to your home decor, and once you throw the gold metallic in the mix, you've got an elegant accent piece that didn't cost more than a few dollars to make. Schauer bought the hexagon pre-made at a craft store and painted it, but you especially crafty folks can save even more by putting it together yourself with some leftover wood.
Farmhouse Market Bag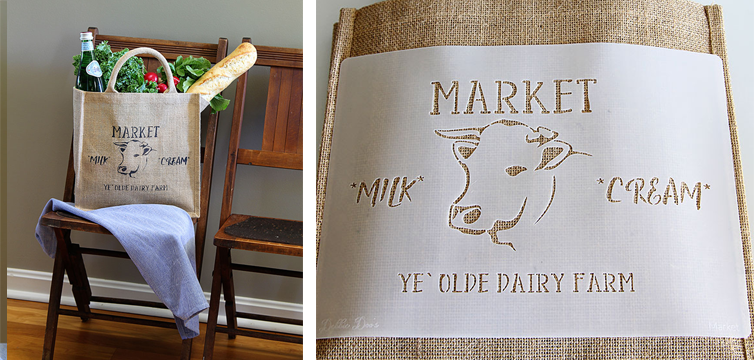 Photos courtesy of House of Hawthornes
As we welcome the spring season and the warm weather that comes with it, we are also anticipating the opening of local farmers' markets! When you head to the market or grocery store over the weekend, bring a personalized tote with you and save some plastic bags. This stenciled variety from Pam of House of Hawthornes is one of the cutest we've seen yet — it looks great hanging on your shoulder, and is functional to boot! Pam even recommends a great site to buy stencils if you're not up to drawing your own.
Kilim Style Pitcher DIY
Photo and project courtesy of Earnest Home Co
Imagine pouring your warm-weather refreshments out of this stunning pitcher — or better yet, housing some fresh springtime blooms! We're in love with the fun pattern that looks straight out of an Anthropologie catalog. Erin from Earnest Home Co. made hers with black tissue paper and some dishwasher-safe decoupage.
DIY State Pride Coasters
Photos and project courtesy of This Ohio Life
We're lucky to live in Ohio, so why not show some state pride with these fun coasters? You can make these in any color to fit your style and home decor, and even whip up a few batches for gifts — they'd look great on any coffee table. Courtney, local blogger and owner of This Ohio Life, mentions that you can cut your own "tree cookies" from a tree in the backyard, or find some from a local craft store.
Men's Shirt Pillows
Photo and project courtesy of  Home Made Modern
Instead of sending those old button-downs to Goodwill after your annual spring cleaning, consider repurposing them into these awesome throw pillows. You can use them to decorate the couch or add a personal touch to the master bedroom, and they're super easy to clean — just unbutton the case. If you're looking for something a bit more cozy, the blog also features sweater pillows.
Happy Crafting!
Which project are you eager to try? Let us know in the comments!
Written: Apr 18, 2017