12 Incredible Road Trip Destinations within 5 Hours of Toledo
There's no doubt about it — summer is the best season for road tripping. And while the opportunities for adventuring are nearly endless, it would be a shame to ignore the array of top-notch attractions within easy reach of Toledo. From wooded escapes to thrilling roller coasters, and quiet retreats to vibrant nightlife, you can basically get a taste of it all without driving more than five hours — deciding on where to go first is the hardest part.
We've compiled a list of some of our favorite shorter road trips within a five-hour drive of Toledo to get you started, so mix, match, and explore to your heart's content. Always remember: it's not about the destination, but about the journey, so roll your windows down, turn up the music, and hit the road. Your perfect adventure is waiting!
Cedar Point
59.4 Miles, 1 Hour and 17 Minute Drive
Photo courtesy of Cedar Point
Depending on how long you've lived in Toledo, you've probably at least heard about Cedar Point by now, if not visited. If you haven't, well, you're certainly in for a treat. This gigantic amusement park on the shores of Lake Erie is known as the "roller coaster capital of the world," but also includes a beach for lounging in the sun, a water park and resort-like amenities. If you're a thrill seeker, twist, turn and plummet on iconic rides like the Blue Streak and the Iron Dragon. Otherwise, find a spot to relax and drink it all in. There's something for everyone at this Ohio gem, and one day is never enough — we certainly recommend making a trip out of it.
Cleveland's Rock & Roll Hall of Fame
120 Miles, 1 Hour and 53 Minutes
The iconic Rock & Roll Hall of Fame accepts new inductees every year, which are celebrated with interactive kiosks, filmed musical highlights, a wall of signatures, and a gallery of artifacts. Since opening in 1995, the Cleveland gem has drawn in millions of Zeppies, Deadheads, and KISS fans each year — even Beliebers have been known to enjoy meandering through the historical archives of influential artists. Regardless of your taste in music, it's certainly a sight to see. While on your trip, enjoy nearby attractions like the Cleveland Arcade and the Great Lakes Science Center.
Bonus: This year, the museum will celebrate the Rolling Stones' 50th birthday with a blast from the past. The exhibit will celebrate the band's impact on culture and politics, as well as the individual careers of the band members. If you're a Stones fan, this will be an event to remember.
Ohio's Amish Country
136 Miles, 2 Hours and 36 Minutes
Photo courtesy of Doyle Yoder via Ohio's Amish Country
Escape from your daily hustle and bustle by living the simple life in Amish country for a bit. This community draws nearly four million visitors a year, and it's not hard to see why! You'll be able to marvel at the Amish Sistine Chapel, engage in one of the nation's oldest livestock auctions, explore the charming craft and non-electric appliance shops, and eat your fill of yummy breads, chocolates, cheeses, and wines made locally. By night, stay in one of the area's boutique hotels, which invite luxury while still reminding you of times gone by. Sounds like one heck of a vacation to us!
Frankenmuth, Michigan
141 Miles, 2 hours and 13 minutes 
When you step into the charming town of Frankenmuth, you'll likely feel as if you've journeyed across the Atlantic to a German province. Known as Michigan's little Bavaria, Frankenmuth offers a romantic setting, plenty of family-friendly activities, and untouched levels of hospitality. Meander through the streets, admiring the colorful Bavarian-style buildings and enjoying all of the sights, smells and tastes that this fairytale town has to offer. While you're there, make sure to stop in at Bronner's, the world's largest Christmas store, and take a river cruise on the Bavarian Belle.
Columbus' German Village  
144 Miles, 2 Hours and 26 Minutes


Ohio's capital city offers a vibrant nightlife, spectacular restaurants, and a buzzing tourist scene. As the fourth most populous state capital in the nation, it houses a melting pot of cultures and fun activities that engage locals and visitors alike. But if you decide to take a road trip to Columbus, you can't leave without visiting the German Village. This historic neighborhood was settled in the early 19th century by German immigrants, and while it has gained some great restaurants and attractions since, it hasn't lost any of that community charm. Plan a day strolling through the shops and dining in the local cafes, or experience a "night out on the bricks."
Gervasi Vineyard
153 Miles, 2 hours and 45 Minutes

Wine not hit up this spectacular vineyard for a weekend away? Gervasi Vineyard is located just outside of Canton, and offers spectacular scenery, luxurious accommodations, and hella-good wines. Meander through the vines on a wine tour, or test your culinary skills in a Tuscan cooking class taught by top-notch instructors. The buzz from this weekend will last long after the effects of the wine wear off.
Rent a Cabin in Hocking Hills
195 Miles, 3 Hours and 23 Minutes
Photo courtesy of Ohio State Parks, Watercraft and Preserves 
This popular, outdoorsy destination is filled with some of the most interesting scenery and topography in the country, from breathtaking sandstone cliffs and waterfalls to ominous caves and colorful forests. While locals and visitors alike flock to Hocking Hills for the camping, we highly recommend booking a cabin for a weekend or longer — there's just so much to see here! These authentic, wood cabins will make you feel like you're a world away from anything else, allowing you to soak in the natural beauty that surrounds you. But don't worry, you won't be roughing it. Most of these cabins are outfitted with hot tubs, fireplaces, hammocks and spectacular views (of course). During the day, you can hike, bike and fish your way around the hills, or visit the charming town nearby — complete with art galleries and farmers' markets.
Bonus: Ohio's Ravenwood Castle is also near Hocking Hills. Consider stopping by for a meal or even staying a night on your way to or from.
Cincinnati
204 Miles, 3 hours and 9 minutes
Nicknamed the "Pearl of the West" and the "Queen City," this gorgeous town on Ohio's southern border has so much to offer. Cincinnati is the birthplace of Cincinnati-style chili and the coney (a chili-smothered hot dog), and the countless traditional chili bistros around town will keep you well-fed. Use your breaks between eating to visit some of the most popular attractions, including the Cincinnati Museum Center, Fountain Square, the quirky American Sign Museum, and of course, the Cincinnati Zoo.
Bonus: This town is also home to some incredible coffee shops! If you're a java enthusiast, check out this list to get in on the buzz.
Pittsburgh, Pennsylvania
233 Miles, 3 Hours and 28 Minutes
This nearby hub was recently named as one of the 17 Best Places to Travel in 2017 by Harper's Bazaar, and lucky for us, it's within easy reach at just three and a half hours away! Here, you'll find a stunning skyline filled to the brim with culture and activities. It's impossible to experience everything this town has to offer in just a few days, but highlights of your trip should include the Andy Warhol Museum for art enthusiasts, Butcher & the Rye for foodies, and a visit to Heinz Field or PNC Park for sports fans.
Chicago, Illinois 
245 Miles, 3 Hours and 58 Minutes
Chicago lies just within reach for a fantastic weekend adventure — although we recommend staying longer if you can. There is so much to see and do in the Windy City, from thrilling theatre shows and comedy clubs, to interesting museums and extraordinary restaurants. Of course you'll have to spend a few hours taking in the sights and riding the rides at Navy Pier, but don't overlook the Museum of Science and Industry or the Shedd Aquarium. Ready for a cocktail? Opt for the Chicago Athletic Association, a luxe hotel with multiple floors offering different experiences — you'll find a casual pub with games on the second floor, and incredible views in a swanky atmosphere from Cindy's on the top floor.
Traverse City, Michigan 
292 Miles, 4 Hours and 36 Minutes

If you're a lover of the outdoors, you'll likely find solace in Traverse City, which provides a vast, outdoor playground to visitors and locals alike year-round. Bike or paddle your way along the miles of trails and coastline, dip your fishing line in the lake, or enjoy a hiking trip through the forest. The beloved Sleeping Bear Dunes is known as one of the most gorgeous spots in the country, and offers the perfect chance to sit on a blanket with your loved ones and take it all in. Once you're done adventuring, kick back with a class of wine at one of the many vineyards, and make sure to save time to explore the local shops and restaurants.
Niagara Falls
329 Miles, 5 Hours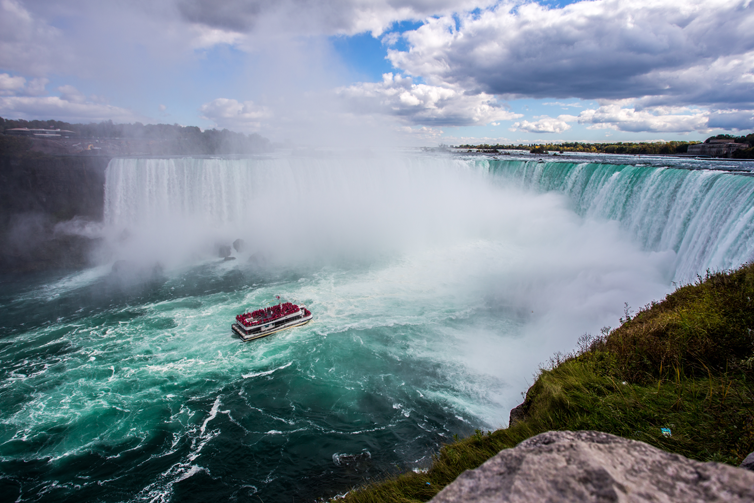 You've certainly seen the stunning falls on postcards, or on a list of America's best, but did you realize they're within easy reach of Toledo? Don't miss an opportunity to see the majesty for yourself — because it's more than just a cool waterfall. The Discovery Pass is the most economical way to see it all, offering admission to all of Niagara's most popular attractions, including Cave of the Winds, the Adventure Theatre, Maid of the Mist, and the nearby Aquarium. The scenery is spectacular year-round, with abundant blossoms in the spring and vibrant colors in the fall, so regardless of when you choose to visit, remember to bring a camera.
Happy Trails!
Now that you have the information, it's time to start planning your perfect getaway! Where will you go this summer? Let us know in the comments.
Written: May 4, 2017