How to Spend 24 Hours in Perrysburg, Ohio
Once you visit the charming town of Perrysburg, it's tough not to fall in love. Located just minutes from the heart of Toledo, Perrysburg offers easy access to your big-city needs while providing a small-town community feel. The streets are dotted with gorgeous houses, the Maumee river provides a nice setting for morning or afternoon walks, and the town is filled with friendly locals who love where they live.
Here, there is an endless array of things to do. While it's impossible to experience all of Perrysburg in one day, we've tried our best to put together an itinerary for a perfect day in the city. From breakfast to nightcap, we have your schedule all planned out for you, so read on and enjoy the journey! We're sure you'll love what you find.
7 a.m. | Grab Some Coffee and A Morning Bite at The Flying Joe
Photo courtesy of Bri Gibson via the Flying Joe 
Start the morning off right with a warm cup of java from the Flying Joe. This local gem is one of the coziest spots around, sporting aviation-themed decorations and a seriously delicious cappuccino. While you're sipping, make sure to peruse the menu. From buttery pastries to warm, savory breakfast sandwiches, you're sure to find something that strikes your fancy! 
9 a.m. | Explore the Great Outdoors
Take the cooler morning hours to get outside and explore the trails Perrysburg has to offer. If you're looking for a low-key activity, check out the W.W. Knight Nature Preserve, which provides a great variety of scenery and activities in a serene setting. Enjoy bird watching from the Lookout on Nature Area, take your rod to fish in the pond, or take a slow jaunt around the park. This spot is also a popular wedding venue, so you know it has to be gorgeous.
We also highly recommend the 18-hole frisbee golf course at Woodlands Park if you'd like a bit of friendly competition!
12 p.m. | It's Burger Time!
After all that adventuring, we're sure you're ready for some serious sustenance to get through the rest of the day (we still have more planned!). Look no further than PerrysBurgers. The restaurant makes its namesake proud with fresh burgers that are cooked perfectly and piled high with top-notch, flavorful ingredients. With any burger purchase, you'll also get an unending pile of hand-cut fries. There's no way you'll leave this establishment hungry.
1 p.m. | Do some afternoon shopping at Levis Commons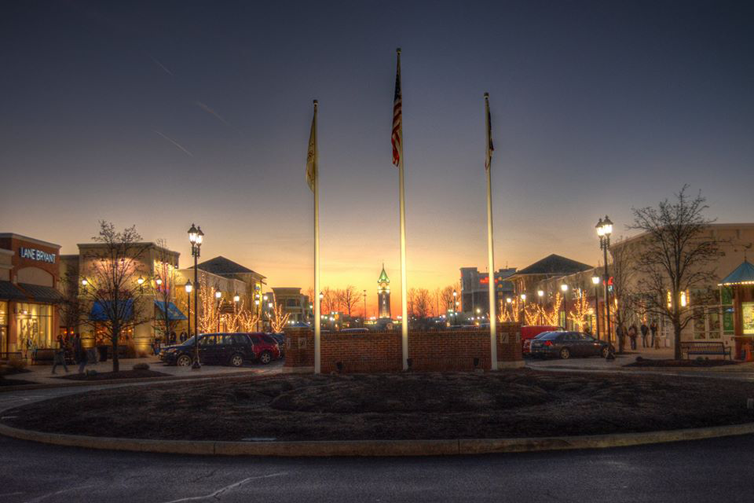 Photo courtesy of The Town Center at Levis Commons
The Town Center at Levis Commons is so much more than a shopping mall — and visiting can take an entire afternoon if you let it. This is known as the central hub of Perrysburg, offering spots to gather with friends for coffee or ice cream, and a gorgeous fountain out front to sit by during the summer months. Throughout the year and especially around the holidays, the center hosts a variety of events, including a Christmas Tree Lighting and Winterfest. While you could certainly stop by and enjoy an afternoon without spending a cent, there are also plenty of tempting shops that will draw you in with seasonal displays and high-quality apparel. If you're in need of a wardrobe refresh, there's no better place to go.
3 p.m. | Take an Afternoon Stroll Through the 577 Foundation
Photo courtesy of Christine Nelson via the 577 Foundation
Spend the afternoon perusing the gorgeous grounds of the 577 Foundation, a community center and public garden that has come to be a Perrysburg staple. The Foundation was founded by the late Virginia Stranahan, a Toledo local who loved adventuring, and wanted to give locals the opportunity to explore their community. While you're always free to stop by and give yourself a walking tour, you can get the full experience by taking a class in subjects ranging from cooking to pottery spinning.
5 p.m. | Wine Tasting at Zinful
It's happy hour! Time to start relaxing. Stop in at Zinful, a tasting boutique offering a dynamic experience and an impressive array of fine wines, cigars and craft beers. You'll find everything from a robust Merlot to a bubbly champagne or bitter stout, so pick your poison and enjoy. Bonus: Zinful also carries a great selection of artisanal gifts for that upcoming birthday or bridal shower you forgot about!
7 p.m. | Get Dinner at 5th Street Pub
Photo courtesy of Meredith Soleau 5th Street Pub
You've had the wine, so now you're probably really in the mood for a good pizza! It doesn't get better than the Neapolitan style pizzas at 5th Street Pub. The restaurant strives to create high-quality pizzas that are as close to traditional Italian as you can find in Ohio — all brought to live in a large wood burning oven. Not in a pizza mood? We'll pretend you didn't say that, but the meatballs here are also incredible.
8-9 p.m. | Catch Some Laughs at Funny Bone Comedy Club
Any time at Funny Bone Comedy Club is sure to be a good time. The venue welcomes a variety of comics both local and national, which perform in the cozy and intimate theater. If you're catching an earlier show (or didn't have time to eat due to your crazy Perrysburg itinerary), you can order a meal and a drink to be delivered to your seat before the show — just make sure to arrive a bit earlier to allow time for ordering.
10 p.m. | Nightcap at Swig Restaurant
Photo courtesy of Swig Restaurant
Swig Restaurant is the place to go to satisfy late night cravings, enjoy a nightcap, and wind down the night with good company. Really, it's great any time, but the gastropub style food, homemade sausage and charcuterie, and live music on weekend nights make this a wonderful destination for a Friday night. We recommend indulging in a duck reuben or large plate of Frankenstein wings, and chasing it down with a local cold brew on draft.
24 Hours in Perrysburg Not Enough?
For those who are looking to make their time in Perrysburg more permanent, this community is a wonderful place to call home. Search available properties here.
Written: May 23, 2017