A Complete Guide to Summer Activities on the Maumee River
The Maumee River is one of Toledo's most prized attractions, boasting 130 miles of gleaming water before emptying into Lake Erie. The banks of the river are home to stunning parks, and are excellent places for hiking, hunting or camping. The river is also an incredible fishing destination, drawing expert fishermen from all over the midwest to catch some of the hundreds of thousands of trophy fish that travel the river each year.
Regardless of the activity you choose, be it on or off the water, you're bound to have a great time at the Maumee River. Here are some of our favorite things to do on the Maumee, and a guide to each.
Fishing
When you think of the Maumee River, it's likely that "fishing" will be the first thing to come to your mind. The scenic river is great for many things, but the plentiful bounty of walleye, channel catfish and bass make it a prime destination for fishermen. If you know what lures and bait to use, you're likely to come away from your trip with a few fish measuring 18 inches (or more!). Fishing season typically starts in March (with the arrival of the Walleye) and runs through the summer.
For guidelines, maps, and to buy a fishing license, visit the Ohio Department of Natural Resources. Additionally, here are our favorite tackle shops in the Toledo area, each conveniently located on the banks of the Maumee. The experts here will get you set up with the bait you need, and point your boat (or your boots) in the right direction.
Location: 104 W. Wayne St., Maumee
Store Hours: Monday-Friday 6 am-7 pm | Saturday 6 am-6 pm | Sunday 6 am-5 pm
The Lowdown: This community-oriented shop is owned and operated by fishermen who call the Maumee River home. They will offer your basic goods (rods, bait and reels) at a lower cost than many in the area, and your purchase is sure to come with a dose of sound advice.
Location: 3350 Briarfield Blvd., Maumee
Store Hours: Monday-Friday 8:30 am-6 pm | Saturday 8:30 am-5 pm | Closed Sunday
The Lowdown: Since 1941, Jann's Netcraft has made a name for itself offering quality service and tackle on the banks of the Maumee River. You'll find everything you need for a day out on the water, and the staff will even walk you through your first rod building.
Biking
Biking along the Maumee River is a popular activity for sunny summer afternoons, especially in the town of Grand Rapids. Here, you'll find an idyllic, rolling route on State Route 65 as it hugs the river. Make this an out and back or stage a car for longer journeys, and don't forget to grab a rewarding refreshment at Grand Rapids' Majestic Oak Winery and Neon Groundhog Brewery. It's not often you can find great beer and wine in one place!
Need to rent a bike? We've got you covered. Here's our favorite nearby shop.
Location: 248 South Main St., Bowling Green AND 6760 Providence St., Whitehouse
Store Hours: Monday-Friday 10 am-7 pm | Saturday 10 am-5 pm | Sunday 11 am-4 pm
The Lowdown: Tandem bikes, recumbents, mountain bikes, oh my! CycleWerks has every two-wheeled contraption you can imagine for adventurers of all ages. If you're meandering on the smoother roads and trails, perhaps try out a cruiser bike. If you like to go faster? Look at the road bikes and mountain bikes. Either way, the knowledgeable staff will hook you up with the right one.
Kayaking or Canoeing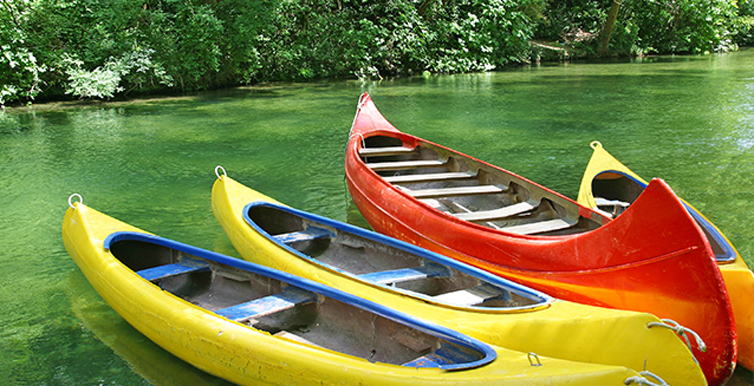 Photo courtesy of Suzie Q's 
Kayaking or canoeing on the Maumee River offers dual benefits — the opportunity to get an incredible workout while admiring the gorgeous scenery and wildlife. It's not uncommon to see bald eagles, egrets, and a wide variety of turtles on your journey, but keep your eyes peeled for the elusive green heron! The River is dotted with plenty of islands, and as long as there isn't a sign barring you from exploring or cutting through the channels, can offer a different adventure each time you hit the water.
Beginners should be aware of the several sets of Rapids south of Perrysburg, including the Turkeyfoot Rapids by Side Cut MetroPark. The length of river between Perrysburg and Maumee Bay is much calmer, and much more heavily trafficked. Just make sure to consult your rental shop or guide before you hit the water, and you'll be on your way! Here are some of our favorites.
Location: 24315 Front St., Grand Rapids AND 8405 River Rd., Waterville
Store Hours: Hours vary depending on season
The Lowdown: Be it a kayak, canoe or stand-up paddleboard you're after, Rivelures will thrill you with an excellent selection for an array of sizes and skill levels. Choose your preferred sport, and hit the river. Adventure awaits!
Location: 535 E. Riverview Ave., Napoleon
Store Hours: Hours vary depending on activity
The Lowdown: This livery on the banks of the Maumee is truly a one-stop shop for river adventuring. Suzie Q's offers full-day kayak and canoe adventures for the whole family, as well as bait & tackle, jet skis, and pontoon boat rentals! After a full day on the river, return to the livery and camp under the stars. 
Jet Skiing, Water Skiing and Wake Boarding
Motorized boating and their accompanying sports are very popular on the Maumee River in the summer months. On the weekends, there is a fair amount of traffic, so it's important to be courteous to the other boaters and fishermen using the river. That's usually never a problem though, as the sunshine and river currents tend to put everyone in a good mood. You can rent pontoons and jet skis at Suzie Q's, mentioned above.
Spending Time at a MetroPark
Photo courtesy of Metroparks Toledo
Our beautiful Metroparks are one of the best parts of living here! Without even leaving the comfort of the city, you can feel like you're worlds away in an outdoor paradise. There are several MetroParks that dot the banks of the Maumee River, each offering a different experience. Enjoy walking the trails, splashing in the pools, playing frisbee, or laying out an elaborate picnic for the family — all you have to do is choose one and rally the troops for a weekend of fun! Here are our favorite parks in the area:
Location: 8505 S River Rd, Waterville
Hours: 7 am-7:30 pm Daily
The Lowdown: This long, narrow MetroPark hugs the Maumee River, and offers plenty of fun activities for the whole family. The defining landmark of the Interurban Bridge, which crosses the river at the park. Though the bridge is now in ruins, it remains as a beautiful testament to our history.
Location: 111 Ottawa Street, Toledo
Hours: 7 am-dark Daily
The Lowdown: We assume the park is dubbed Middlegrounds due to the perfect collision of city and nature. Located right near downtown Toledo, the park is a favorite spot for weekday lunches as well as soaking in the sunshine on weekends. Look for an off-leash dog area coming soon!
Location: 13827 S. River Road, Grand Rapids
Hours: 7 am-dark Daily
The Lowdown: The Providence Metropark offers a little taste of history with the "canal experience." Canal boats once carried goods and people between Toledo and Cincinnati. See what that was like by taking a trip aboard an authentic mule-drawn canal boat on the Miami and Erie Canal. You can also enjoy fishing, kayaking and picnics here while the kids play on the playground.
Camping
Photo courtesy of Metroparks Toledo
Ahh, nothing beats a night spent under the stars — especially when that night is spent on the banks of our beloved Maumee River. Just don't forget the graham crackers and marshmallows — priorities. Here are our favorite spots to pitch a tent:
Location: 8505 S River Rd, Waterville
The Lowdown: After spending a day playing around in the river, perhaps pitch a tent and settle in for the night at Farnsworth Metropark. This gorgeous park is available for tent camping May through November 15th, and includes fire rings for cooking.
Location: 4498 State Route 10, Napoleon
The Lowdown: When you're looking for an overnight stay, Wagner's Campground offers tent sites, RV parking, and a prime riverfront experience for you and your family.
Enjoy Your River Experience!
What is your favorite way to spend time on the Maumee River? Let us know in the comments.
Written: Jun 8, 2017