10 Toledo Area Homes For Sale with Stunning Kitchenettes + Bars
We love homes with extras — whether that comes in the form of a jaw-dropping fireplace, a cozy loft, an outdoor fire pit, or an elegant bar. Not only do these additions make a home more accessible, they also offer charming and surprising bonuses you'll want to show off at every gathering.
We put together a list of the Toledo area's most beautiful homes offering kitchenettes and bars — a couple of our favorite extras. If you fall in love with one of these available listings, you already have a built-in setting for your housewarming party! If you're not in the market for a home, you'll gather plenty of home inspiration for your own.
Well-Designed Luxury
29624 Durham Drive | Listed by Kay Rasmus 
We can't decide what we like more in this luxury home: the full kitchen or the kitchenette bar. With access from the living room and the laundry room, you can enhance your relaxation, your chores or both! Small details like the recessed lighting, stone ceiling and glass fronted cabinets make the already glamorous space even more stunning.
Old School Glamour
4340 Cranberry Lane | Listed by Heather Smith-LaPoint
This Sylvania home has Mad Men era flair thanks to the dark, dramatic wet bar located right in the living room. With an old-world fireplace and library-style built-ins as well, it's the perfect place to wind down after a long day or entertain guests after dinner.
Echoed Elegance
2393 Mission Hill Drive | Listed by Chris Finkbeiner
The simple elegance of this home's kitchen is echoed in the adjacent bar. We love the deep espresso cabinetry paired with black tile and white countertops. The wine fridge and proximity to the kitchen and living room makes it an easy place to celebrate, relax and share a toast during your housewarming party!
Bonuses at Every Turn
8030 Winding Ridge Boulevard | Listed by Victoria Elchert Valle (Luhring)
This Monclova home has so many extras to love — including a beautiful wine fridge in the main kitchen. But take your celebration to the basement bar, a standout for chic, retro design! Directly next to the pool table and the theater room, the space offers a sense of seclusion and plenty of fun.
Entertaining for Every Season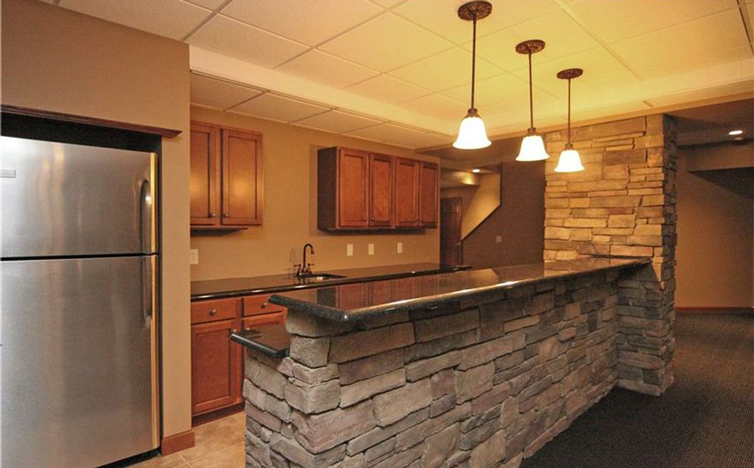 4341 Pine Ridge Circle | Listed by Victoria Elchert Valle (Luhring)
At this stunning home, you don't have to worry about the cold months diminishing your chances for relaxation and fun. When you're not lounging poolside under the pergola, you can retreat to the basement bar. Stone details and a lodge feel make it the perfect place to cozy up during the winter!
Room to Roam + Settle at Home
4783 CR 16 | Listed by Donna Friesner
Nestled on over four acres, this gorgeous Craftsman style home has plenty of room to roam, but when you want to return to the comforts of home, grab a seat in the upstairs loft. Complete with a kitchenette, the wide open space can be used for dining, entertaining, playing and relaxing!
A Bar
and
a Kitchenette
14841 Stonehaven Drive | Listed by Donna Friesner
This home's glamor comes through in every room — from the grand living room fireplace to the elegant den. Inside the main kitchen, you'll find a wine fridge, counter and cabinets perfect for a bonus bar, but the star of the show is downstairs. There, you'll find a space suitable for all your entertaining needs, complete with a kitchenette, dining area, pool table and theater experience.
The Whole Package + More
9035 Royal Oak Drive | Listed by Dian Liber
If a home has a farmhouse sink, a sunny patio and fire pit paired with stunning design details, we're obviously fans. But if it also has a kitchenette nestled in an expansive basement entertainment space, we're in love. This Holland home has all that and more!  
Mosey Up to the Bar
3531 Southpoint Road | Listed by Mark Kruse
The kitchen in this Toledo home is stunning on its own, but you don't have to go all the way upstairs for food when you're celebrating in the basement entertainment space. Complete with a chic bar, room for a watch party and a pool table, you'll want to stay down here to catch all the action.
Two Stylish Kitchens
3723 Turtle Creek Drive | Listed by Victoria Elchert Valle (Luhring)
When it comes to entertaining, what's better than a bar or kitchenette? How about two full kitchens? With granite countertops, space to sit at the bar, and a complete set of appliances, this home's basement kitchen is the ideal location for entertaining guests — especially since the wine cellar is so close!
Which home do you love?
Let us know which available home you fell in love with and which designs inspired your own remodel!
Written: Jul 26, 2017