These Toledo Area Homes Earn an A+ For Reading Nooks, Built-in Study Desks + More
With the first day of school just around the corner, we're all looking for ways to encourage our kids to read often and get their homework done. Believe it or not, it's not usually the highlight of every kid's school year.
Whether your home will be hosting solo study nights, group project meetings or reading marathons, the perfect space can set your kids up for success. We gathered homes with the coziest, homework-inspiring spaces and nooks on the market right now. Some are perfect for quiet time, while others will encourage family participation.
Let us know which Toledo area home earns an A+ in your book.
Dreamy Dens
Dens are literally made to get work done, but these dreamy spaces offer a few design extras that put them above the rest!
Function + Aesthetic = Perfection
14610 New Rochester Road | Listed by the Warren Group + Jordyn Windnagle 
In too many houses, the office space seems to be a throwaway room. But in this home, every detail proves they went the extra mile in each nook and cranny. The built-in desks offer space for multiple homework heroes and the built-in shelves mean you can capitalize on storage. The elegant industrial light fixture and elevated ceiling are just bonuses for the design lovers!
Elegant Extras  
14841 Stonehaven Drive | Listed by Donna Friesner 
The landscape windows, built-in library and dramatic domed ceiling in this home's den are inspiring us to get down to business — and that's just from the photos! With all the makings of the perfect business space, you and your kids can both get work done surrounded by elegant woods and natural light.
A Bedside Workplace
6506 Anthony Drive | Listed by Victoria Elchert Valle (Luhring)
This Maumee home puts productivity at your child's fingertips — or bedside might be more fitting. Besides being packed with mid-century modern design from the front door to the fireplace, this house has the perfect built-in desk — whether you use the room as a bedroom, as pictured, or as a den.
Family-Friendly Kitchens
If your family gathers in the kitchen after school, these well-designed spaces are the perfect places to be together while homework gets done and dinner sizzles in the oven!
A Taste of Tuscany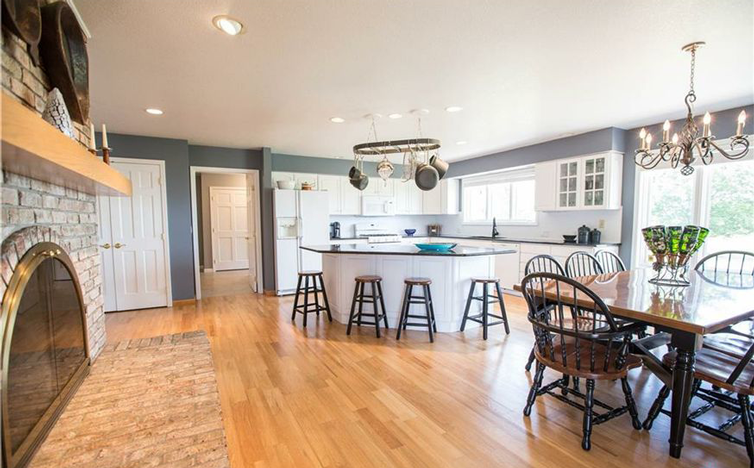 5700 Libbey Road | Listed by Maggie Fawcett
Homework or no homework, we would spend time in this home's open floor plan kitchen. The old-world Tuscan hearth and the ceiling pot rack create a countryside cottage atmosphere. But the wide open and light-flooded space has a larger than life feel — perfect for the entire family to gather!  
Let's (All) Get Down to Business  
4340 Cranberry Lane | Listed by Heather Smith-LaPoint
With a built-in work space and a spacious island right in the thick of things, this home's kitchen is made for productivity. With someone at work amidst the luxurious built-ins, kids studying atop bar stools and the chef cooking away, it's the perfect kitchen for the school year and the work week.
Take Your Pick
14590 Wood Creek Court | Listed by Donna Friesner
This home's charming kitchen has a desk that's a bit more secluded for those who have trouble focusing. But it also has a sunny dining table for group studies, a tutor-ready island and a bay window for the bookworm in your family!
Learning in the Living Room  
When the whole family wants to be together, but there's homework to be done, gather in these stunning living rooms!
A Study in Design
117 Mulberry Street | Listed by Dan Novotny
We're obsessed with this Perrysburg home from front to back and first floor to third floor. The living room is the main gathering space and, as such, culminates in some of the home's best design features. We can't get enough of the industrial staircase which happens to pair perfectly with mid-century modern decor.
Read, Study, Relax  
9035 Royal Oak Drive | Listed by Dian Liber
This home does have a stunning living room, but the charming fireside sitting room is our favorite spot — whether your kids are catching up with studies or you're catching up over coffee. We especially love the way the bold wall color is echoed in the elegant ceiling detail!
Outside Study Spaces
During the warm months, we're strong proponents of outdoor study sessions. There aren't many things that aren't made better with a dose of sunshine!
A Space for Every Occasion  
3055 Quarry Road | Listed by Victoria Elchert Valle (Luhring)
Color us obsessed! This Maumee home has a back patio we want to spend every season on. Gather the whole study group around the dining table nestled under the built-in gazebo while parents catch up under the sun. Or, for solo study sessions, your kids can grab a seat on the front deck at the most charming dining table we've seen.
First Homework, Then S'mores  
360 Pine Valley Road | Listed by Donna Friesner
We think the kids would be more willing to do homework if fireside s'mores were involved. This home's backyard is party-ready in the summer and study-ready during the school year. Grab your books and your rulers and grab a spot on the couch while dinner sizzles on the grill!
Which home do you love?  
Let us know which Toledo area home gets the grade and what design details you'll be bringing into your own house!
Written: Aug 15, 2017