Plan a Spring Shopping Trip | Toledo Area Boutiques
In the past few years, the "Shop Local" movement has gained momentum all over the country. Every year, thousands of people participate in "Small Business Saturday," which takes place the Saturday after Thanksgiving and Black Friday. You may be surprised by the number of amazing local boutiques Toledo has to offer, so the next time you are in need of a unique gift or you just want to do some shopping for yourself, make sure to check out these locally-owned shops!

GypsieSoul
Located in downtown Perrysburg, GypsieSoul is an eclectic mix of west coast and bohemian styles, which brings a unique vibe to Northwest Ohio. Not only does GypsieSoul offer a great selection of clothing and home items, they also offer classes and workshops such as Reiki Sound & Vibrational Healing classes, Full Moon Yoga and Arm Knitting.
408 Louisiana Avenue | Perrysburg | Ohio | 43551
Handmade Toledo
Handmade Toledo was born from a desire to give Toledo makers, doers and crafters a place to call home. Since 2012, Handmade Toledo has been putting on Maker's Mart, an indie craft fair put on twice a year. Handmade Toledo is also a creative multipurpose space that includes the shop, workspace for classes, studio space, gallery space and also serves as an event space that hosts art-related events.
1717 Adams Street | Toledo | Ohio | 43604
Vivian Kate
Vivian Kate is an upscale women's clothing boutique located in Historic Downtown Perrysburg. They carry contemporary fashion with a feminine edge. Vivian Kate continues to separate itself from high-end retail chains by offering an edited product selection of sought after styles and staffing a team of fashion experts that not only provide knowledgeable service, but also develop a strong, trusted relationship with their customers.
102 Louisiana Avenue | Perrysburg | Ohio | 43551
Sheffield Road
Sheffield Road opened in Perrysburg in 2007 as a specialty gift store and custom gift basket retailer. Store owner, Kelly Flanigan Nadaud, has been creating custom gift baskets since 2000 from a busy operation out of her home. Out of this successful business came the inspiration for her own retail shop specializing in home décor items that she adores and the gorgeous gift baskets she is known for.
128 East Front Street | Perrysburg | Ohio | 43551
8625 North Main Street | Sylvania | Ohio | 43560
Copper Moon Studio Gallery & Gifts
Stacy Owen opened Copper Moon in Holland, Ohio in 2006. The shop quickly grew in popularity, and Stacy (with the help of her dad) got to work on their current location that opened in 2011. Copper Moons features a spacious gallery to showcase a plethora of fused glass designs created by Stacy and other talented artists. The shop also houses two classrooms for fused glass classes that are offered to the public. Copper Moon is a local favorite for finding the perfect gift, and has been voted Best Independent Gallery and Best Place to Buy Local Art for several years running.
8007 Airport Highway | Toledo | Ohio | 43528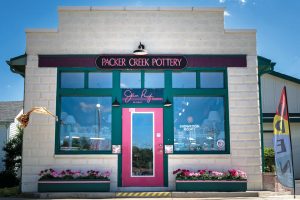 Packer Creek Pottery
Since 1979, Packer Creek Pottery has been dedicated to creating beautiful and functional handmade pottery. All of their property is handcrafted with loving detail in their Genoa, Ohio studio by their team of talented artisans. At their stores, you will find thousands of colorful creations proudly displayed along with a unique and fun experience through unrivaled customer service. The dedication to quality and the unique, whimsical and colorful designs have earned Packer Creek national recognition. In 1993, Jan was commissioned by the White House to create an angel for a Christmas tree in the Blue Room. The original now resides in the National Archives.
103 East 8th Street | Genoa | Ohio | 43430
322 Louisiana Avenue | Perrysburg | Ohio | 43551
Garden Smiles
Carruth Studio was launched in 1983, once George and his wife, Deb, were able to build off their success in art exhibits and shows around the country. Garden Smiles, their retail studio outlet, is based in Waterville, Ohio and is widely known throughout the region. It is home to George's complete collection, along with a curated selection of art from 20-plus local artists. George's pieces have gained national attention, with an ornament for the Whitehouse Christmas Tree and the National Cathedral in Washington D.C.
George travels back to Waterville several times a year to sign his pieces for customers. George will be returning to Garden Smiles on Saturday, April 14th from 10 a.m. – 5 p.m.
211 Mechanic Street | Waterville | Ohio | 43566
Fiddle Stix
Fiddle Stix is owned and operated by Maumee residents, Jenelle and Daniel Calverly. In November 2007, they opened their first retail store in Perrysburg and have recently opened a second location in Sylvania. Fiddle Stix is a fun and unique gift and stationary boutique that features brands such as Vera Bradley, Alex + Ani, Cotton Colors by Laura Johnson, Yeti, Lilly Pulitzer and Kate Spade. Specializing in personalized gifts, you are sure to see them being gifted at weddings, showers, etc.
4165 Chappel Drive | Perrysburg | Ohio | 43551
5693 Main Street | Sylvania | Ohio | 43560
Written: Mar 22, 2018