24 Hours in Southeast Michigan
Pure Michigan: a breathtaking, serene landscape for any wanderer to enjoy. We've planned a 24 hour journey for you to experience one of our local delights, Southeast Michigan. You will not be disappointed in a day trip to the mitten state!
9:00 AM
Coffee
What morning is complete without a piping hot cup of Joe? For the non caffeinated, try a bubble tea or satisfy your sweet tooth with a delicious local turnover at DaCapo Coffee! Proud of every bean they brew, their coffee is selected for its flavor and is always at peak freshness. Artisan crafted soups, sandwiches, and made from scratch pastries also adorn their menu. DaCapo Coffee proudly calls Temperance home, located at 7370 Lewis Avenue Suite B.
Breakfast
If you are looking to fill your belly for the day that awaits, head on over to Bedford Diner. With breakfast served all day, everyday and only the best ingredients in all their dishes, Bedford Diner is a must-need stop. Located at 6660 Lewis Avenue in Temperance Michigan since 2014, we recommend the Greek Breakfast with extra cheese, please!
11:00 AM
Shopping
While you're out exploring, why not pick up some fresh produce from that grocery list you've been procrastinating? Ciolino's Fruit and Vegetable Market  boasts the lowest everyday produce prices around and has for over 75 years. With two convenient locations to serve SE Michigan, you can visit them in Monroe and Temperance. Check out their website for hours and specials.
Nibbles
Who doesn't love ice cream as a mid afternoon snack? Scoop's Soft Serve has you covered from chili dogs to that coveted soft serve cone (don't forget the sprinkles!). Located at 8750 Lewis Ave in Temperance, you can easily head their way after you've stocked up on those weekly groceries from Ciolino's. 
1:00 PM
Sandy Patio Eats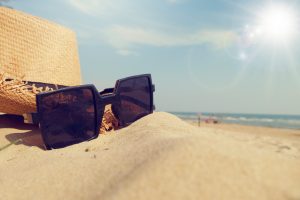 Luna Pier, Michigan is the home of  Luna Pier Beach Cafe, a favorite local eatery of this beach town community. Have a burger on the patio and enjoy the nearby sounds of the waves. A treat for the ears too, Luna Pier Beach Cafe has local musicians that play regularly!
Rainy Day Eats
On a not so sunny day, hunker down with a slice of pie at Village Pizzeria and Pub in Temperance. Family owned and operated since 1973, come in and enjoy music and drinks, as well! Visit their website to view upcoming events that include musical guests and drink specials.
3:00 PM
Park Exploration
Use some of that well-deserved energy from your hearty lunch and head to the park. White Park in Temperance, Michigan is complete with baseball diamonds, basketball and tennis courts, trails, a racing track, and a wonderful jungle gym. With slides, bridges, and all the climbing you can imagine, this park is a great one to stop by and let the kids be kids!
Antique Mall
Blissfield Antiques Mall is a great place for indoor exploration. You never know what you may find walking the aisles of an antiques mall and flea market; the possibilities are endless! Open Tuesday through Saturday 10 am-5pm and Sunday 12-5 pm, come and see what treasures you might find.
6:00 PM
Dinner 
Unwind from your day with an elegant dining experience at The Hathaway House in Blissfield, Michigan. This family owned business has been in operation as a restaurant since 1963, with the building dating back to 1851. Decadent entrees are sure to please your palate and an extensive wine selection will have you smitten with the mitten state.
Drinks
Dust off your boots at another Weeber family establishment located in the original carriage house directly behind The Hathaway House,  The Main Street Stable and Tavern. Choose from a selection of beers or have a cocktail (or two) to keep the day moving along!
9:00 PM
Movie Night
Next, Phoenix Theaters will have you sitting back and relaxing by the big screen. Locals enjoy the theater for their luxury recliners, designed for comfort. The love seat pods for two feature a flip-up middle armrest with drink holders and provide limitless relaxation at the touch of a button. For showtimes and titles, visit their website today!
Pool Party
Pete's Garage is the perfect place to try your luck with a game or two of pool. There is also a very unique feature about this bar and grill, you can have a brew or munch on some home made potato chips in a car booth! That's right, the atmosphere here is all fun and games, so come on out to Pete's Garage in Monroe to see for yourself.
Where's your favorite place to go for food or fun in SE Michigan? We'd love to hear in the comments below!
Written: Sep 5, 2018