A Day in the Life of a Realtor
When I first got licensed, I was happily surprised by how many people took interest in my new career. I think there is a lot of curiosity surrounding the job of a real estate agent. What does an average day look like you might ask? And do you really get to make your own schedule? I thought there was no better way to let you guys peak inside my world than a daily round up.
7:30 AM
I am by no means a morning person. I always start my day with a cup of coffee. I know this is the WRONG thing to do, but I promised myself I would be honest here. I usually spend the time I am enjoying my coffee scrolling on my phone. I first check my work e-mail to make sure there are no pressing issues that need to be addressed. I then spend the remainder of the time scrolling on Instagram, Facebook, and Twitter.
Once I am done with my coffee, it's time to squeeze in a workout. When I am not doing a class at Tonic Maumee, I like to work out from home. I mix it up by visiting POPSUGAR Fitness's YouTube page. Check it out and thank me later.
Then it's time to hit the shower and get ready for the day.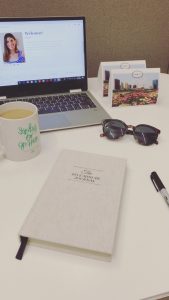 9:30 AM
Showing up to the office is an important part of me being successful. Could I work from home each day? Yes. Do I think I would be as productive? No. Showing up to the office puts me in a different mindset and surrounds me with other professionals.
Speaking of mindset? One of the first things I do when I arrive to the office is complete my daily gratitudes. I know this sounds wonky, but it works. Writing down a few things I am grateful for helps my day start off in the right direction.
Now starts the actual 'work'. A lot of people don't realize that as a REALTOR you are truly running your own business. In the mornings, I focus on working on my business so that in the afternoons, evenings, and weekends I can work in my business.
The morning typically includes scoping the MLS to see what new things have happened in the market. I am replying to e-mails, sending thank you cards, making customer calls, prospecting, updating my database, business planning, posting on social media, scheduling showings (which takes a lot of coordination between a lot of parties, by the way), and arranging other appointments (final walk throughs, appraisals, etc.)
12:00 PM
By this time, I am not only hungry, I am HANGRY. My go-to is Churchill's Market because of the awesome salad bar + fresh daily soups. I bring it back to the office and munch away at my desk while I catch up on social media and what's happening in the headlines.
1:00 PM
Remember when I said the morning is when I work on my business and in the afternoon I am working in my business? No two days are alike, but in the afternoon and evenings I am usually with my clients.
If I am preparing for showings later that evening, this includes gathering information on the specific home, analyzing comparables, and looking for any red flags in the property disclosure.
If I am in the midst of a deal with buyers it may mean I am attending an inspection, connecting with their lender, and making sure the transaction is on track to close on time. It also may mean I am completing a final walk through and attending my clients' closing (YAY!).
If I have a listing appointment in the works, then I am getting my 'pitch' ready. I take each and every listing appointment SERIOUSLY (it is a job interview, you know), so that includes a great amount of preparation. Why I am the girl for the job, the benefits of working with myself and Danberry (there's A LOT), developing a pricing strategy, explaining my marketing plan, and much more.
If I have a new listing, this may mean helping stage the home, attending the professional photography session, preparing marketing materials, attaching a lockbox, or adding my name 'rider' to the sign. It could be following up with buyers' agents, forwarding on feedback to my sellers, negotiating inspection addendums, or attending a closing once it's sold (another YAY!).
5:00 PM + Saturday and Sundays (yes, you work evenings + weekends in this business!)
This is where I spend the majority of my time with my clients. You have to understand that this is when a lot of people are free. This time spent includes showing homes and providing my professional opinion, hosting an open house, writing offers, presenting offers, sitting down with buyers to complete a one-on-one consultation, and meeting prospects at their home to pitch my listing presentation.
8:00 PM
After dinner, it is time to wind down. This is when I shut off for the evening, binge watch some TV, eat a snack, and check out until the AM.
Now does all of this happen each day? No. Some days are slow and uneventful, while other days I could use another 'me'. It varies. Thanks for taking the time out of your day to get a peak inside mine!
Written: Jan 16, 2019